Two Plano-area families with missing family members have been alerted by police that a search for remains is underway after a skull and bone were found in a creek near an elementary school Tuesday, police say.
Plano police said they notified the families of Christina Morris and Chris Tennyson as a courtesy after the remains were discovered Tuesday afternoon.
Police were called to a creek behind Carlisle Elementary School at about 3:45 p.m. Tuesday after a bicyclist riding on a nearby trail reported seeing the skull. The responding officer was unable to determine if it was a human skull, so he contacted detectives, who were also uncertain.
During their inspection of the area, the crime scene detectives found another bone nearby.
Plano Police Investigate Skull, Bone Found in Creek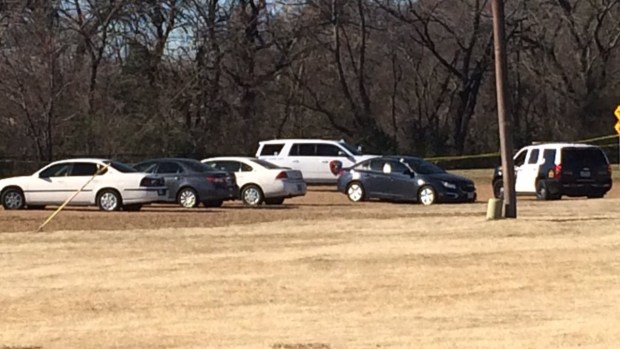 The final determination regarding the remains will be made by the Collin County medical examiner. DNA or dental confirmation could take weeks or months, officials say.
Police closed off the area Tuesday, treating it as a possible crime scene, before suspending the search after dusk. The search resumed at sunrise, and included a Texas Department of Safety helicopter and K-9 officers on the ground, before concluding Wednesday afternoon.
Jonni McElroy, the mother of Christina Morris — the woman who disappeared in August 2014 — told NBC 5 that Plano police contacted her family Tuesday. The were very cautious about saying anything and don't want her to get her hopes up about the discovery, she said.
"[The] Plano police keep us very informed on any news we need to know and they are very good on keeping us aware of everything. There is no need for me to be out there searching at the scene. It is very important for us to leave this in the police hands and we will be the first one they notify if it is something of concern to Christina's case. We have great communication with them and have learned you have to let them do there job with out any disruption. We as a family and Team Christina, will never stop searching for her," McElroy said.
Plano Police Investigate Skull, Bone Found in Creek
Police have released no further information in the investigation.
Plano Independent School District officials said the investigation would not impact the schedule at Carlisle Elementary School, though some students who walk to school may be impeded by the search.
NBC 5's Ellen Bryan, Eric King and Johnny Archer contributed to this report.