Dallas police reported five arrests Friday as protesters marched hours after the inauguration of President Donald Trump.
About 40-50 people were part of one demonstration that began at Lake Cliff Park and moved toward Jefferson Boulevard in Oak Cliff. Along the way, they began completely blocking traffic, at which point police moved in to make two arrests.
The crowd then quickly retreated to the sidewalk.
Dallas Police Tackle Anti-Trump Protester in Oak Cliff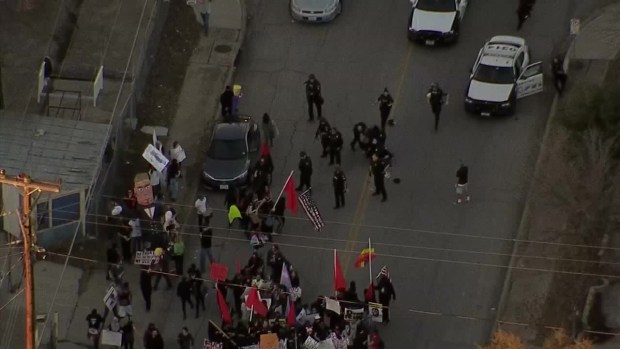 A third person who was across the street at the time was arrested when she failed to comply with an officer's orders.
Two other arrests were also reported among the march, police said. Each of the five people will be charged with obstructing the road.
Following that confrontation the atmosphere mellowed and protesters made their way back to Lake Cliff Park.
Among the marchers was Dan Gardner, a former enlisted Marine, who said he was protesting because he sees Trump as a threat to the country.
"I'm just an average guy. I can't take away what he's going to do, but I can make sure to inspire enough people, so in 10 years we have people that we do want to see in office," Gardner said.
Meanwhile, a group called North Texas Resistance held a rally in Dealey Plaza and a march through a portion of downtown Dallas that drew more than 100 participants. The event went off without any incident.