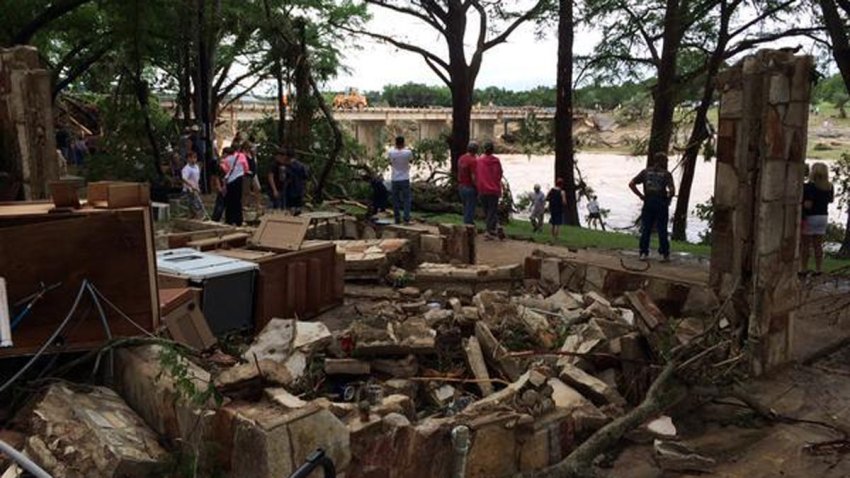 Crews were searching Monday for 12 people reported missing after a vacation home was swept away by flash-flooding along a rain-swollen river that destroyed or damaged more than 1,000 homes in Central Texas.
Emergency crews rescued several people who were stranded by the torrential rains that swelled the Blanco River over the weekend in and around Wimberley, an area known for its bed-and-breakfast inns and rental weekend cottages. At least one person died from the flooding.
"We still have people who are on little islands," said Ken Bell, emergency coordinator in the nearby city of San Marcos.
Local
The latest news from around North Texas.
Here's the latest on the search, damage and threats of more dangerous weather:
MISSING FAMILIES
Authorities said the 12 missing people were connected to two families and had gathered at a house along the river for a Memorial Day holiday weekend in Wimberley, a small town about 35 miles southwest of Austin.
Witnesses reported seeing the house pushed off its foundation by the rain-swollen river and smash into a bridge, Hays County Judge Bert Cobb. Cobb said one person rescued from the home told workers about the others inside, but Cobb didn't have details.
Joe McComb told the Corpus Christi Caller-Times newspaper that his daughter-in-law and two grandchildren were among the missing.
He said his 36-year-old son, Jonathan, was separated from his wife, Laura, and their children -- Leighton, 4, and Andrew, 6 -- when the home was knocked off its foundation. McComb said the home floated down the river with the people still inside before striking the bridge.
McComb said his son was hit by floating debris but managed to get to shore, where he was found by someone who called 911. He said his son is hospitalized in San Antonio with multiple injuries.
"The whole thing is pretty shocking right now," McComb told the newspaper from Hawaii, where he and his wife were celebrating their 44th wedding anniversary but making arrangement to return quickly to Texas. "Because we believe in God, we believe in miracles. But we know the reality of things, too."
At least five other missing people were identified by the Episcopal Church of the Good Shepherd in Corpus Christi as parishioners.
WIDESPREAD DAMAGE
Among the worst-affected communities were Wimberley and San Marcos, both along the Blanco River in the corridor between Austin and San Antonio.
An estimated 350 to 400 homes were destroyed in Wimberley, and about 1,000 homes were damaged throughout Hays County. Five San Marcos police cars were washed away, and the firehouse was flooded, city spokeswoman Kristi Wyatt said.
Rivers swelled so quickly that whole communities awoke Sunday surrounded by water. The river crested above 40 feet -- more than triple its flood stage of 13 feet -- and rescue workers had to use pontoon boats and a helicopter to pull people out.
"It looks like a swath of tornado as far as the eye can see," said Dana Campbell, 69, a retired engineer who lives on a bluff above the river. "A lot of confusion right now. A lot of damage."
Worried residents were waiting in cars and trucks lined up for a quarter mile Monday afternoon trying to get back into the town, which took some of the worst damage. Officials say the river rose 26 feet in an hour.
Gov. Greg Abbott, who viewed the river by helicopter, described the damage as "absolutely massive" and compared it to a tsunami mowing down everything in its path. The governor has declared disaster areas in 37 counties so far, in mostly the eastern half of the state. That allows for further mobilization of state resources to assist disaster-struck communities.
MORE FLOODING POSSIBLE
Storms continued to pelt parts of Texas with rain, hail and strong winds on Monday, with much of the state under flood watches and warnings.
"It's really Texas and southeast Oklahoma that are in the bull's eye for severe weather," National Weather Service forecaster Mark Wiley said. "Grounds across both states are absolutely saturated. Any rains are going to lead to much more flooding."
The National Weather Service said it had received reports of tornado in some parts of the state Monday, the same day a tornado killed more than a dozen people just across the Texas-Mexico border in Ciudad Acuna.
A strong storm system over the southwest U.S. for several weeks is responsible for the storm outbreak as a combination of tropical moisture from the Gulf of Mexico and dry West Texas produces lines of damaging storms, he said.
Copyright AP - Associated Press