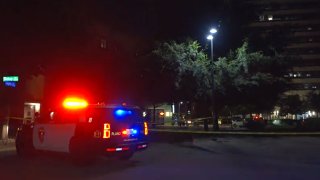 A 24-year-old man has been arrested in the death of another man who was shot Wednesday night in Plano.
Jordan Christopher Jacobs faces a murder charge in the death of Steven Christopher Gambles II, police said.
Jacobs was arrested at about 11:30 p.m. Saturday and booked into the Collin County jail, police said. His bail has not been set.
Gambles was found shortly before midnight Wednesday in his vehicle outside the Mini Market in the 5800 block of Legacy Circle with a gunshot wound to the head, police said.
Gambles was transported to a local hospital, where he was pronounced dead, police said.
The Plano Police Department said the investigation is still ongoing.
Anyone with information can contact the Plano Police Department at 972-941-2148.