The Dallas County Medical Examiner's Office has identified three people killed in a crash caused by an alleged drunk driver early Monday morning.
According to the Dallas Police Department, the crash occurred at the intersection of N. Hampton Road and Singleton Boulevard at approximately 1:35 a.m.
Police said a 23-year-old man was driving westbound on Singleton Boulevard at a high rate of speed when he collided with a vehicle driven by a 47-year-old man, identified as Ernesto DeLeon, that was traveling southbound on N. Hampton Road.
According to police, the 23-year-old ran a stoplight and collided with DeLeon's vehicle, forcing it to turn counterclockwise and collide with a third vehicle that was stopped at the red light facing eastbound on Singleton Boulevard.
The third vehicle, driven by a 16-year-old male, was forced off the road during the crash.
Police said DeLeon's vehicle struck a fourth vehicle that was waiting at the red light.
According to police, DeLeon and passenger 19-year-old Leslie DeLeon, who was sitting in the back driver's side, were pronounced dead at the scene.
Another passenger, 18-year-old Ashley DeLeon who was in the back passenger side, was transported to a local hospital and later pronounced dead, police said.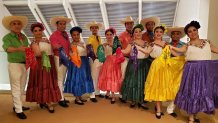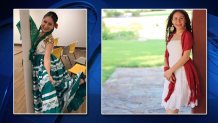 The front passenger, a 42-year-old female, was transported to a local hospital with serious bodily injury. Her current condition is not known.
Local
The latest news from around North Texas.
Police said the three individuals killed during the crash were all in the same vehicle.
According to police, the 16-year-old male was transported to a local hospital with minor injuries.
The 23-year-old who ran the red light was transported to a local hospital and found to be under the influence of alcohol, police said.
Police said the 23-year-old was arrested for intoxication manslaughter and intoxication assault. Dallas police have not yet identified the suspect.
"I understand nobody intends to hurt anyone but the difference between a DUI and a DUI fatality is boom," said Helen Witty, national president of M.A.D.D., Mothers Against Drunk Drivers.
M.A.D.D. said last Memorial Day weekend, drunk driving crashes killed 163 people across the country.
The group is awaiting the latest statistics amid COVID-19 distancing orders.
"Nationally, drunk driving has gone down while everyone was at home," she said. "And now people are just starting to emerge.
It has been a deadly holiday weekend on Dallas County roads.
Two separate crashes claimed the lives of innocent victims. including a motorcycle rider and a baby.
A suspected drunk driving crash happened Saturday night in Garlandsaid, where police said they were trying to stop Adrian Maldonado.
Police said the 19-year-old blew through several intersections and T-boned a Ford Mustang, killing 1-year-old Alice Maturino. Her parents and 2-year-old brother were seriously hurt, according to police.
Garland police initially reported the age of the victim was 2 years old.
"This was such a tragedy," said Lt. Pedro Barineau of the Garland Police Department. "We have a family that it seems that they may have been traveling home that night and a person who made the decision to get behind the wheel and drive at high rates of speed who was intoxicated changed that family's life forever."
Police said Maldonado and his passenger ran from the scene, but were caught.
He faces several charges including intoxication manslaughter.
The 19-year-old was also wanted for probation violation for a home burglary.
And on Friday night, Dallas police said Bryan Howard, a suspected drunk driver in a pickup truck, caused a crash with motorcyclist Alejandro Ortiz. The 29-year-old died of his injuries.
Howard was seen undergoing a field sobriety test along Duncanville Road before being arrested for intoxication manslaughter.
A GoFundMe page was started for the DeLeon family Monday night.