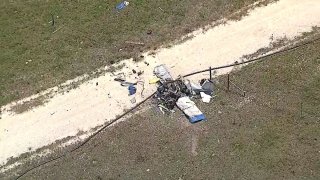 A 20-year-old U.S. Air Force Academy cadet was identified as one of the two people who died in a plane crash Thursday in Johnson County.
The small plane took off from Cleburne Regional Airport Thursday evening and was reported missing when it didn't return at its scheduled time, according to the airport manager.
The plane was located at about 10:30 p.m. Thursday.
All components of the plane were at the crash site, officials said, and investigators were working Friday to determine the cause of the crash.
The Tarrant County medical examiner's office identified the pilot as Nick Ryan Duran of Cleburne. The second person has been identified by the Tarrant County Medical Examiner as 20-year-old Felipe Lopez Valdez.
U.S. Air Force Academy Superintendent Lt. Gen. Clark confirmed in a statement that Duran, a cadet second class, died in the crash while he was in Texas on leave.
"The impact of losing Nick has been felt throughout our Academy. He was our brother — a friend, teammate, and classmate — and will always be a part of USAFA. I am so proud of how our cadets have leaned on each other and honored Nick's life," Clark said. "While words cannot lessen the loss felt by his family, we want to send our heartfelt condolences to Nick's family and friends — you are in our thoughts and prayers."