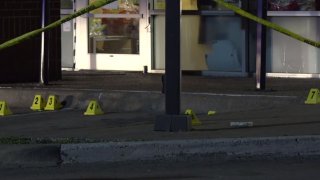 A man has been charged in the death of a 20-year-old man who was fatally shot Friday night, Dallas police say.
Officers responded about 7:50 p.m. to a shooting at Charletta's Hair Design in the 12100 block of Greenville Avenue, near Interstate 635, where Z Kendrian Isaiah Jackson was shot.
Jackson, 20, was taken to a local hospital, where he died.
At about 1 a.m., police arrested Joseph Patrick Chinasa Nwisienyi on an unrelated felony warrant.
Nwisienyi, 20, was taken to the homicide unit, where he was interviewed by detectives and invoked his right to an attorney.
He has been booked into the Dallas County jail, and charged with murder. Nwisienyi has also been charged with assault.
His bail has been set at a total of $500,000 for both counts.