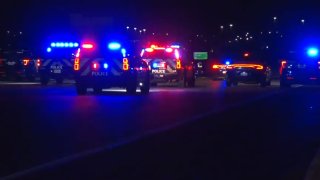 Two people were killed in a fiery crash Friday night that Fort Worth police say involved an intoxicated driver.
Police said that at about 9:30 p.m., one vehicle rear-ended another near West Loop 820 and Chapin Road. The impact caused the vehicle that was hit to flip over, crash and catch on fire.
Both people in the vehicle died of their injuries at the scene of the crash, police said. Their identities have not been released.
The driver that hit them, 41-year-old Bryan Christian Taylor, was suspected of being intoxicated and was taken into custody, police said.
He was taken to a local hospital, and later booked into the Tarrant County Jail.
Taylor has been charged with two counts of intoxication manslaughter with a vehicle.
His bail has been set at $50,000, according to jail records.