Poll: Perry Leads White in Texas Governor's Race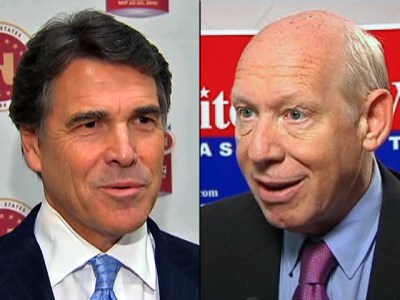 Republican Gov. Rick Perry leads Democrat Bill White in support among likely voters, but the state's longest-serving governor has yet to win over most Texas voters, according to a poll conducted for Texas' largest newspapers.
Perry has 46 percent support to 39 percent for White among likely voters, the poll showed. Eleven percent were undecided. Libertarian candidate Kathie Glass is trailing with 4 percent, and Green Party candidate Deb Shafto had less than 1 percent.
Texans' displeasure with President Barack Obama and Washington and the perception that Perry has helped the Texas economy appear to be working in the governor's favor. Perry is trying to win an unprecedented third full four-year term.
"He certainly looks like he's headed for another term," pollster Mickey Blum said. She described White's task as "not impossible, but it's certainly difficult."
Among the challenges, Blum said: "The state is arguably doing better than much of the country, there's a fairly popular governor you're running against and this is a Republican year all the way around."
The poll was conducted by Blum & Weprin Associates Inc. of New York for the Houston Chronicle, The Dallas Morning News, the San Antonio Express-News, the Austin American-Statesman and the Fort Worth Star-Telegram. The results were appearing in their Sunday newspapers.
The telephone survey of a random sample of 1,443 Texas adults, including 1,072 registered voters and 629 likely voters, was conducted Sept. 15-22. The margin of error for the likely voters is plus or minus 3.9 percentage points.
Even though White and his allies have spent millions of dollars on television ads attacking Perry, Blum said the race has remained essentially unchanged since February. She said she sees little volatility in the race and voters who are undecided probably won't cast ballots in the Nov. 2 election.
In this anti-incumbent year, Perry's 10 years as governor doesn't seem to bother Texans. He leads among whites, older voters and Republicans -- groups that traditionally turn out heavily on Election Day. He's also attracting more women, is far ahead in rural Texas and is dividing the vote in urban areas.
According to the survey, Perry leads by more than 30 percentage points in Dallas-Fort Worth and is drawing about even with White in San Antonio and in Houston, where White was mayor. White holds a seven-point lead in Austin.
White has big margins of support among Democrats, blacks and Hispanics. He is doing better than Perry among independents, who are breaking 3-to-2 in White's favor.
Almost half the state's likely voters approved of the way Perry is handling his job, while 37 percent said they disapprove. Most of his negative ratings came from Democrats.
Perry campaign spokesman Mark Miner said the poll reflects the governor's decade-long stewardship of the state.
"Whether they agree with the governor 100 percent of the time or not, the governor stands up for what he believes in and what is in the best interest of Texas," Miner said. "Bill White has offered nothing constructive in this campaign. Criticism is not a solution to anything."
White campaign spokeswoman Katy Bacon said Perry has done a bad job running the state and has been in office too long. She seized on the fact Perry has not broken 50 percent in his voter support.
"It's clear that a majority of Texans have had enough of career politician Rick Perry focusing on himself and his political career instead of the state's future," she said.
The newspapers interviewed some of the poll respondents.
William Shipley of Plano said he believes a conservative is best right now. Shipley lost a $100,000-a-year job and now works in mobile telephone sales. He said his support for Perry is driven in part by his opposition to Obama.
"Basically everything he's (Obama's) done has been bulldozed over the heads of Republicans. It's been like that ever since he's been in charge," Shipley said. "And if a state governor can have any influence, it's going to have to be a Republican."
Alfredo Lopez, a disabled veteran from San Antonio, supports White. He criticized Perry for refusing to debate White and chided the governor for not accepting federal money for unemployment and education.
"When they offered the state of Texas millions of dollars when they were giving the bailout, and he declined those funds for the state of Texas, I said, what is this guy doing? Everybody else was doing it to help their state," Lopez said. "And then they were showing off how he lives in a mansion with chauffeurs and a chef. I don't personally like that."