Gov. Greg Abbott (R) says COVID-19 is spreading at an unacceptable rate in Texas and that it must be corralled to keep Texans safe and the state open for business.
During a scheduled news conference on the state's response to the pandemic Monday, Abbott started off by addressing recent increases in new cases, new hospitalizations and the positivity index -- the percentage of the people who have tested positive for the virus.
Abbott said last week the state was averaging more than 3,500 new cases per day after averaging 1,500 per day in May. He noted that hospitalizations set a record 10 days straight and are now at more than 3,400 and that the positivity index was hovering just under 9% after being below 5% for much of last month.
As of Monday, data reported by the DSHS increased the hospitalizations to more than 3,700, the positivity index to 9.51% and the number of cases increased by another 3,300 Sunday along with 10 more deaths.
The governor previously said a positivity index of 10% and stark increases in hospitalizations would be a red flag. Of the numbers mentioned Monday afternoon, Abbott said, "To state the obvious, COVID-19 is now spreading at an unacceptable rate in Texas and it must be corralled."
Locally, Dallas Mayor Eric Johnson reported Monday that ICU beds within the city are at 72% capacity. Ventilator use is at 34% capacity.
The Dallas-Fort Worth Hospital Council released a statement that reads in part:

"We are carefully monitoring the increase, acknowledge the COVID-19 census has increased over the past 2 to 2.5 weeks, but still only represents about 7.5% of our total census. We will certainly watch carefully our COVID-19 hospitalizations, but ask everyone to please wear facial covering in public, practice social distancing, wash your hands frequently and practice good personal hygiene. If we all work collaboratively together, we can slow community spread and strive to open businesses in a very safe manner."
Dallas County Judge Clay Jenkins said now's the time to act and establish mandates instead of suggestions.
"We have that capacity now, but this can quickly accelerate so we can't afford to wait around until it does," he said.
Jenkins said capacity and ventilator percentages should be concerning.
"If we wait until we're in the 80s [percentage] on ICU capacity, it's too late to have our best outcome to save as many lives as we can, to keep as many businesses going as possible," he said.
To slow the spread of the virus, Abbott again mentioned the same protocols that have been in place since March, and that is if you're at risk or sick, stay home, wash your hands, maintain a safe distance from others and when you go out, wear a covering over your face.
State leaders are taking other steps to help curtail the spread of the virus, including upping enforcement, working with the Centers for Disease Control and Prevention on surge testing in areas where there may be outbreaks, working with hospitals to ensure they have what they need to treat all COVID-19 patients and by continuing to recommend everyone wear masks.
Abbott all but pleaded with Texans to wear facial coverings when out in public, but still refusing to make that an executive order on behalf of the public welfare saying Texas is too big to enforce such a mandate across 254 counties with different levels of the spread of the virus.
"Wearing a mask will help us to keep Texas open. Not taking action to slow the spread will cause COVID to spread even worse, risking people's lives and ultimately leading to the closure of more businesses," Abbott said Monday afternoon. "Our goal is to keep Texans out of hospitals and reduce the number of Texans who test positive."
According to data received by the Texas Department of State Health Services, the numbers of new cases, deaths and hospitalizations have all been on the rise since June 1.
With 3,700 hospitalizations reported Monday, the state has set a record for COVID-19 hospitalizations for 11 days straight.
"The data and trends are going up in a way that we really need to get control of," said Dr. John Hellerstedt, Commissioner of the Texas Department of State Health Services, during Monday's news conference. "We can get control of those by using the kind of guidance we have laid out before."
Last week, several North Texas counties saw a surge in cases with Dallas County recording an average of 373 cases per day, Tarrant County recorded 232 per day, Denton County averaged 61 cases per day, and Collin County averaged 79 per day. In all four counties, the 7-day averages were the highest on record.
Higher case counts can be partially explained by an increase in testing. However, if the positivity rate also goes up, the percentage that indicates the number of people tested who are positive for the virus, then that could indicate a wider community spread.
After dipping below 5% in May, the positivity index has been on the rise and has been hovering just under 9% for several days. Abbott said in the past that it would be a red flag if the positivity index were to again be sustained at 10%. On Monday, the positivity index was at 9.51%.
A revised model from UT Southwestern Medical Center in Dallas indicates a possible 20% spike in virus-related hospitalizations in the Dallas-Fort Worth area in the next two weeks.
In May, a UTSW model predicted Dallas County could see up to 800 daily cases of COVID-19 in July if efforts to curb the spread were relaxed.
That model, seen below, also showed Dallas County may see 400 new cases per day by June 20 if mitigation efforts were 60% effective. That threshold of 400 cases per day was broken twice last week -- on three other days, new cases were within eight cases of 400.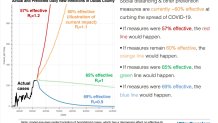 "We really are at a point where we need to recover, what I feel was, a sense of community that we had early on in the outbreak of COVID-19. We are still all in this together Texas and we need to act, not just to protect ourselves, but to protect our entire community."