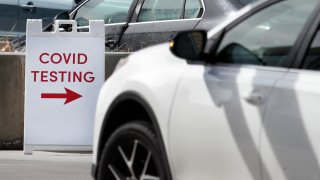 MD Medical Group is adding a new drive-thru COVID-19 testing location in Lewisville.
Starting Monday, seven clinics will offer drive thru testing for COVID-19 in the DFW area. All clinics will remain open to the public.
Previously, MD Medical Group offered testing for COVID-19 in Dallas County and Tarrant County.
According to MD Medical Group, a seventh drive-thru testing location in Denton County will reduce the demands on hospitals and allo adults and children to be tested without spreading the virus.
Coronavirus Pandemic
Full coverage of the COVID-19 outbreak and how it impacts you
The clinics will be open from 8:00 a.m. to 5:00 p.m. and will be equipped to test 200 individuals daily.
The Dallas community drive-thru testing center was closed due to inclement weather on Monday, but it is expected to resume operations Tuesday.
The drive-thru testing locations in the DFW area are as follows:
MD Family Clinic, Marsh location: 9991 Marsh Lane, #100 Dallas, TX 75220
MD Family Clinic, Irving Heights location: 1111 South Irving Heights Drive, Irving, TX 75060
MD Family Clinic, Bruton location: 9709 Bruton Road, Dallas, TX 75217
MD Kids Pediatrics, West Plano location: 7800 Preston Road, #300 Plano, TX 75024
MD Kids Pediatrics, Saner location: 3201 West Saner Avenue, Dallas, TX 75233
Clinicas Mi Doctor, Seminary location: 4200 South Freeway, #106, Fort Worth, TX 76115
Clinicas Mi Doctor, Lewisville location: 701 South Stemmons Freeway, Lewisville, TX 75067
MD Medical Group said that individuals should call or text 1-888-776-5252 for same-day appointments.