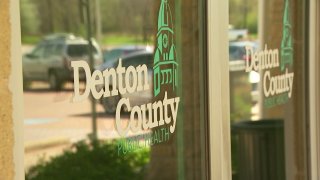 Denton County public health officials on Saturday said nine more people have tested positive for COVID-19, bringing the county's total to 24 cases.
Four of the cases were reported from the Denton State Supported Living Center, one of which was counted among the new cases reported Friday.
The cases at the facility include one resident in their 50s and three in their 60s. All four patients are in hospital isolation.
"Nothing is more important than the health and safety of our residents, the staff that work day in and day out to serve them and the local community that is such a strong supporter of the Denton State Supported Living Center," said Scott Schalchlin, the Health and Human Services associate commissioner for state supported living centers in a written statement.
Coronavirus Pandemic
Full coverage of the COVID-19 outbreak and how it impacts you
Texas Health and Human Services suspended nonessential visitation and on-campus events at state supported living centers March 13.
"Our team is working alongside Denton State Supported Living Center to implement additional infection prevention and control measures to protect the residents and staff," Director of Public Health Dr. Matt Richardson said in the statement.
The county has cases confirmed in Aubrey, Carrollton, Denton, Double Oak, Frisco, Justin, Lewisville, Little Elm, Pilot Point, Prosper and Trophy Club.
In the county, five of the patients are in their 20s, two in their 30s, four in their 40s, six in their 50s and seven in their 60s.
The county said 16 of the patients were self-isolating in their homes, while eight were at area hospitals. Additionally, 13 of the patients had traveled recently, three had contact with someone who had a confirmed case and eight were spread through local transmission.
As of this writing, there are 196 confirmed cases of COVID-19 in North Texas; three people have died.
---
*Map locations are approximate, central locations for the city and are not meant to indicate where actual infected people live.
---
---
Coronavirus Cases in Texas
Locations on the map are approximate county locations and are not intended to identify where any infected people live.
Case data was pulled from a variety of sources including county health departments and the Texas Department of State Health Services.
---