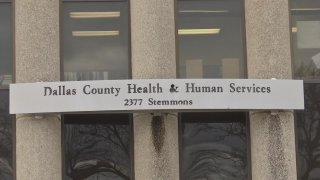 Officials in Dallas County reported 250 additional cases of COVID-19 Saturday and eight more deaths associated with the novel coronavirus.
Saturday marked the seventh straight day Dallas County Health and Human Services has reported at least 234 new cases of COVID-19.
The report raises the number of COVID-19 cases in the county to 5,619 and number of deaths to 143.
Dallas County does not report recoveries from COVID-19, however the Texas Department of State Health Services posts an estimated number of recoveries on its site and lists 2,294 for Dallas County.
"Today's numbers close out our week, which has seen more positive cases than ever before," Dallas County Judge Clay Jenkins said. "For the week, we had a total of 1,720 cases, a 246 daily average and 33 deaths. That compares to 990, 141 and 29 for the previous week. Residents should continue to avoid crowds, practice six foot distancing, wear a cloth covering at businesses and on public transportation and practice good hygiene."
The eight reported deaths were in a Garland man in his 30s, a Dallas man in his 50s, a Cockrell Hill man in his 50s, a Dallas man in his 60s, a Balch Springs woman in her 70s, a Dallas man in his 80s, a Richardson woman in her 80s and a Farmers Branch woman in her 80s.
Three of the people who died were residents of long-term care facilities.
A new testing site run by Kroger Health opened Saturday in Dallas, at CitySquare, located at 1610 Malcom X Blvd. Testing will be conducted Saturdays and Monday from 8:30 a.m. to 2:30 p.m.
"COVID-19 testing is critical to public health and our economic recovery plans," Dallas Mayor Eric Johnson said. "I am thrilled that Kroger has stepped up to provide more public testing, and I am particularly pleased that the company selected a site in South Dallas, which will be a boon to our historically underserved residents who are especially vulnerable to this pandemic."
Tracking COVID-19 Cases in North Texas Counties
NBC 5 is tracking the number of COVID-19 related cases, recoveries and deaths in North Texas counties. Choose a county and click on a city or town to see how the coronavirus pandemic is affecting your area.
Cases are cumulative by day and are subject to change, dependent on each county health department's reporting schedule and methodology. Data may be reported county-wide, by city or town, or not at all. Cases, recoveries and death counts in 'unspecified' categories are used as placeholders and reassigned by their respective counties at a later date.

Data: County Health Departments, NBC 5 Staff
Nina Lin/NBC