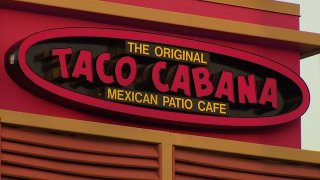 Taco Cabana's parent company, Fiesta Restaurant Group, Inc., says they are immediately shutting down 19 of their 164 restaurants in Texas, including eight in Dallas-Fort Worth.
The company said the 19 restaurants were underperforming and that while they contributed to approximately $24.5 million in earnings they also had $4.2 million in pre-tax operating losses, including $2 million in depreciation expense, in 2019.
Fiesta said the following restaurants will close immediately, including the one in Dallas along Greenville Avenue where the iconic Tango Frogs are installed on the roof. The future of the Tango Frogs is not yet known.
810 W. Stacy Road, Allen
1827 Greenville Avenue, Dallas
2220 South Loop 288, Denton
5350 Preston Road, Frisco
11560 Dallas Parkway, Frisco
7105 Interstate 30, Greenville
1495 Precinct Line Road, Hurst
5036 Rufe Snow, North Richland Hills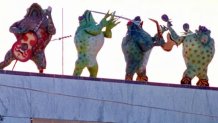 The closures, the company said, eliminates all stores with significant losses and will serve to boost the group's overall portfolio. The restaurant group said nearly all employees impacted by the closures will be offered positions at other Taco Cabana locations.
Fiesta President and CEO Richard Stockinger said the move was is part of a plan to improve margins by 200 to 300 basis points for 2020 vs 2019. In addition to the closures, the plan includes efficiency initiatives at operations across food and beverage expense catagories.
Local
The latest news from around North Texas.
"We continue to make progress on sales building initiatives across both Pollo Tropical and Taco Cabana in off premise sales, including catering, online and delivery. In addition, as our new senior management team enters their first full year together, we are optimistic about improving comparable restaurant sales at both brands in 2020."
There are more closures in the Dallas area than anywhere else in the state. After the eight restaurants close there will be 38 remaining in North Texas and 145 state wide.
The other 11 locations closing around Texas are listed below.
8620 Burnet Road, Austin
701 Texas Avenue, College Station
6522 Westheimer Road, Houston
13480 Northwest Freeway, Houston
9220 Gulf Freeway, Houston
12518 Tomball Parkway, Houston
2535 South Highway 6, Houston
Highway 288 and This Way Street, Lake Jackson
6867 W. US Highway 90, San Antonio
11701 Blanco Road, San Antonio
825 S. 6th Street, Waco
After the closures, there will be 37 remaining locations in Houston, 37 in San Antonio, 24 in Austin, seven in El Paso and two in Waco/Temple/Bryan-College Station.