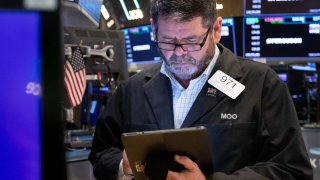 BY THE NUMBERS
U.S. stock futures bounced Friday, with the S&P 500 trying not to join the Nasdaq in a bear market, which is defined by a drop of 20% or more from a prior high. The Dow on Thursday dropped for the sixth straight session, sinking further into a correction, define by a drop of 10% or more from a prior high. The S&P 500 fell slightly. The Nasdaq managed a slight gain. (CNBC)
The 10-year Treasury yield on Friday ticked higher but remained under 3%, a key level that was breached on May 2 for the first time since late 2018. Fed Chairman Jerome Powell said in an interview posted Thursday on Marketplace that he can't promise a so-called soft landing for the economy. He warned that getting inflation under control could cause some economic pain but remains his top priority. (CNBC)
IN THE NEWS TODAY
Nasdaq futures led the way higher Friday, up about 2%, despite an 12% premarket drop in Twitter (TWTR) shares. The stock dropped as much as 25% after Elon Musk tweeted Friday his deal to buy the social network is "temporarily on hold." Twitter shares were paring those losses when Musk later tweeted a second time he's "still committed" to the deal. (CNBC)

The Tesla CEO Musk announced last month that he intends to buy Twitter for $44 billion. Tesla (TSLA) shares, which recently fell on worries about Musk's Twitter deal being a distraction, rallied more than 5% Friday on the first tweet and held those gains after the second.
Tether, the world's largest stablecoin, regained its peg to the dollar after more than $3 billion worth of tokens left the system in a single day. Another stablecoin known as TerraUSD or UST, which is supposed to be pegged 1-to-1 with the dollar, traded around 8 cents Friday. Luna, a token closely associated with UST, is now worth $0 as a result. (CNBC)

The stablecoin saga has added a layer of uncertainty that's contributed to sharp declines across the entire crypto market. Bitcoin on Friday was back above $30,000, rebounding from levels not seen since late 2020. At current levels, bitcoin, the world's largest cryptocurrency, was down more than 50% from its all-time high of over $68,000 in November. (CNBC)
Sam Bankman-Fried, CEO of crypto exchange FTX, has taken a 7.6% stake in Robinhood, according to a late Thursday filing with the Securities and Exchange Commission. The filing said he paid $648 million. Shares of Robinhood, a popular stock and crypto trading platform, jumped more than 23% in Friday's premarket. (CNBC)
STOCKS TO WATCH
Affirm Holdings (AFRM) reported a narrower-than-expected quarterly loss. Revenue also beat forecasts. Affirm raised its full-year revenue outlook and announced the extension of its ongoing partnership with e-commerce platform operator Shopify (SHOP). The stock rocketed 33.8% higher in the premarket.
Toast (TOST) added 3.2% in the premarket after the restaurant-focused technology platform company reported a smaller than expected quarterly loss as well as revenue that beat Street forecasts. It also raised its full-year revenue forecast, as more restaurants adopt Toast's technology.
MicroStrategy (MSTR) rallied 13.9% in premarket action in what's been a volatile week for the business analytics company. MicroStrategy, which has extensive bitcoin holdings, saw its stock fall more than 25% on both Monday and Wednesday before rising yesterday.
Roper Technologies (ROP) is near a deal to sell its process-technology unit to private equity firm Clayton Dubilier & Rice for about $3 billion, according to people familiar with the matter who spoke to Bloomberg.
The Honest Company (HNST) rose 3.1% in premarket trading after it reaffirmed its full-year revenue outlook. The personal care and household products company also reported a quarterly loss and revenue numbers that were both in line with Wall Street forecasts.
Duolingo (DUOL) surged 15.3% in the premarket after it reported a narrower quarterly loss and better than expected revenue. The language software provider said active user numbers are at an all-time high, and it issued upbeat current quarter revenue guidance.
Figs (FIGS) saw its stock plummet 25.2% in premarket trading after the health care apparel company missed estimates with its latest quarterly results and issued weaker than expected full-year guidance.
Poshmark (POSH) reported a loss of 18 cents per share, 4 cents smaller than Wall Street had anticipated, with revenue also beating estimates. That helped send its stock up 2.1% in premarket action, even though the online apparel marketplace issued a weaker-than-expected current quarter revenue forecast.
Copyright CNBC