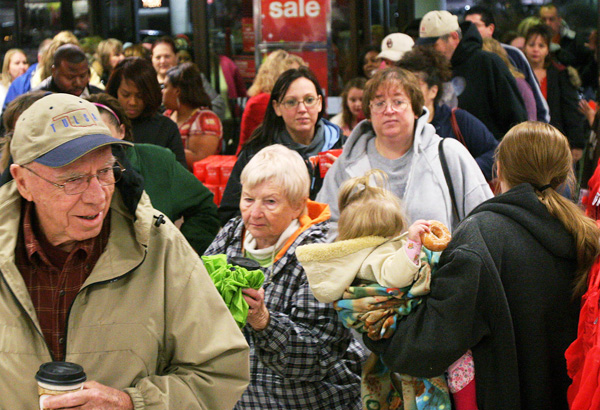 With Black Friday just four days away, this week's Worth the Drive will focus one of the favorite past-times of Texans, shopping.

Certainly there are plenty of notable malls and shops around the Dallas-Fort Worth Metroplex where one can trade hard-earned coin for goods, but since many of us will be on the road to see family over the long holiday weekend, why not check out some of Texas' expansive outlet malls along the way?

Locally, of course, there is always Grapevine Mills, the 1.6 million square-foot shopping center with more than 180 stores, 94 of which are rated true outlets, according to outletbound.com. Grapevine Mills is located just north of DFW International Airport and is a great option for those who may want to score some sweet deals without driving too far. Also, they are opening at midnight Friday for those hoping to cash in on Black Friday while avoiding some of the hysteria that arrives with daybreak.

For those living in the far north of the Metroplex, Allen Premium Outlets is not only opening at midnight on Friday, but many of the stores are offering discounts of up to 25 to 50 percent on many items. At Wilson's Leather Outlet, shoppers will find discounts of up to 75 percent throughout the entire store.

One of the more popular outlet destinations for North Texans is only a short drive south on Interstate 35 to Hillsboro. The Outlets at Hillsboro boasts more than 100 stores, 52 of which are true factory outlets. They will be opening at 10 p.m. Thanksgiving evening for their Midnight Madness sale, which promises huge discounts, entertainment and more to shoppers.

Want to get out of town and make it a weekend full of shopping? Book a room in Austin and plan to stop at three outlet malls located in Round Rock and San Marcos -- all conveniently located right off of I-35.
Round Rock's Premium Outlets boasts 125 stores, 108 of which are rated true factory outlets. They are owned by the same folks run the outlet mall in Allen and plan to open at midnight Friday.

Farther south down I-35 are three outlet malls located relatively close to each other. In San Marcos, shoppers can find the Pr1me Outlets with more than 140 stores and the Tanger Outlet with more than 100 stores. Tanger will be opening select stores at 10 p.m. Thanksgiving evening. Plus, the first 250 shoppers that register at Ste. 319 will receive a free gift.

San Marcos' Pr1me Outlet was ranked the third best place to shop in the world by the ladies of "The View" and is the largest outlet shopping destination in Texas. It is also the third largest shopping destination in the world. I guess it's a good thing they are opening early as well, though it's only at 8 a.m. Friday and not at midnight. If that weren't enough of a reason to visit, shoppers can also register to win a $5,000 sweepstakes for the holidays. Go here to register: http://www.primemycloset.com/

For those heading east out of DFW, two smaller outlet malls are within easy reach of those on either Interstate 20 or 30. Along I-20 in Terrell, the Tanger Outlet Center has 35 brand name outlets and is opening at midnight Friday. Many of the stores are offering deep discounts of up to 50 or sometimes 60 percent.
East of DFW on I-30 is the Factory Stores of America outlet in Sulphur Springs. There are only 11 stores, so the outlet itself isn't much of a draw. But, if you're driving between Dallas and Texarkana it couldn't hurt to stop and take a look.