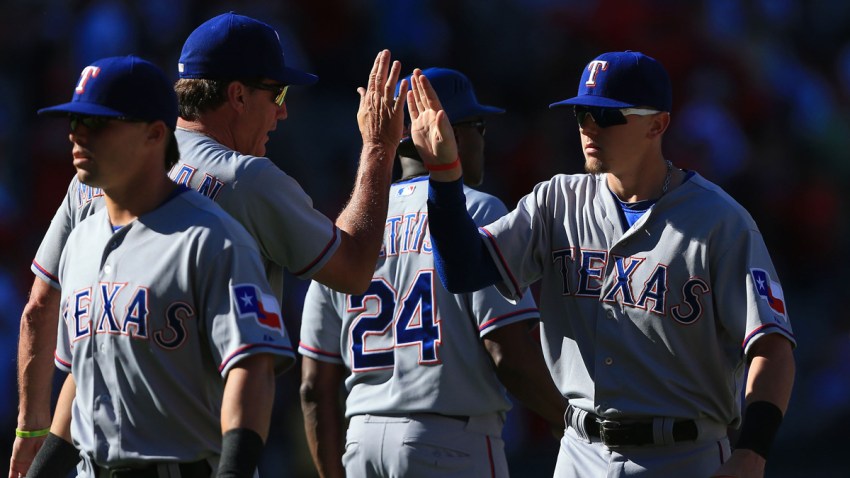 In a weekly staple, we'll discuss who's in a groove and who's in a rut for the Texas Rangers.
Who's On?

Ryan Rua — The young left fielder/third baseman has made the most of his September cup of coffee, and he's one of a couple of youngsters carrying the Rangers' offense at the moment. He's batting .435 with two doubles, a homer and three RBIs in his last six games.
Jake Smolinski — See above for a description of Smolinski's stretch, but remember, he was up in July and doing well before an injury shelved him for two months. Now, he's back, and he's doing well again. He's batting .379 with a double, a homer and four RBIs in the last seven games.
Adrian Beltre — The ol' veteran is finding his stroke again. In his last seven games, he's hitting .346 with four doubles and four RBIs.
Nick Martinez — In his last two starts, Martinez is 2-0 with a 1.46 ERA, giving up two runs in 12 1/3 innings.
Who's Off?

Neal Cotts — He's still struggling. He's given up a run on two hits in his last 1 2/3 innings and appears to be playing his way out of a 2015 roster spot, which is hard to believe considering how great he was in 2013.
Leonys Martin — After going on a long, extended run when he was good, the Cuban center fielder is closing the season on a sour note. In his last six games, he's hitting just .208.
Copyright FREEL - NBC Local Media