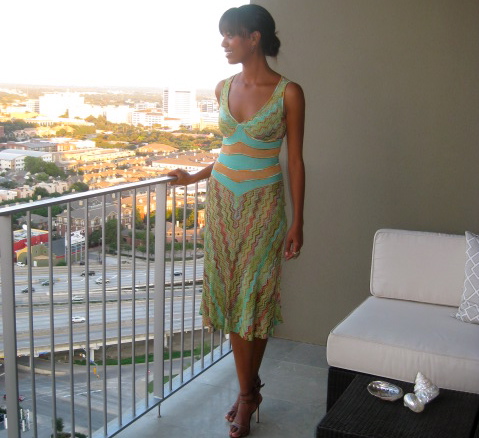 Tonight it's a Missoni dress, Ann Taylor heels, and a no-name vintage clutch that she got, "forever ago at The Way We Wore in Los Angeles! Back when I only liked boys from out there."
Typical eclectic perfection from Dallasite, Atti Worku - executive director of Seeds Of Africa, model, former Miss Ethiopia, and full-time style star. The high-meets-low look is nothing new, but it still takes a sharp eye for a good deal and a sense of sartorial humor to pull-off. Worku fills us in on her current fashion philosophy, below.
What's the trend you hate the most right now?
"Leather leggings! Oh my gosh, never. Just no. It doesn't look good on anyone (long, abrupt pause as she realizes the writer was wearing a pair last time they met). But, I mean, you, um, at least, um, tried it out I guess! See, I won't even do that (she is blushing now, unnecessarily; the writer happens to love leather and does not feel badly about this fact)."
What are you wearing to transition to fall while shuttling between here and NYC?
"I'm just going to add blazers, cardis, and boots to my loose summer go-to pieces - James Perse tees, denim shorts and skinny jeans, and tight short skirts. And neutrals! All my neutrals and camels all the time. I will be doing lots of jewelry as well; either really huge or really delicate pieces."
What are you most wanting to buy for this fall?
"A very, very long camel coat. Like, floor length. And oversized sweaters."
What items in your closet seem to stay relevant every season?
"Dresses in simple shapes and cream or nude colors."
Packing tips, since you spend your time between cities?
"Always carry something on, or at least one thing for day and one thing for night! Don't ever count on the airlines getting your baggage."
Your style in your words?
"Conservative and very personal."
Favorite stores in Dallas?
"Dolly Python and The Shak."
New York?
"Uniqlo, Barney's during warehouse sale time, and Off 5th."
Any other tricks or tips to share?
"I can sew, and I alter all of my items from vintage or cheaper stores so that they fit me well and are current in terms of length or shape. And just be different, because the trends get so overexposed now."
Copyright FREEL - NBC Local Media