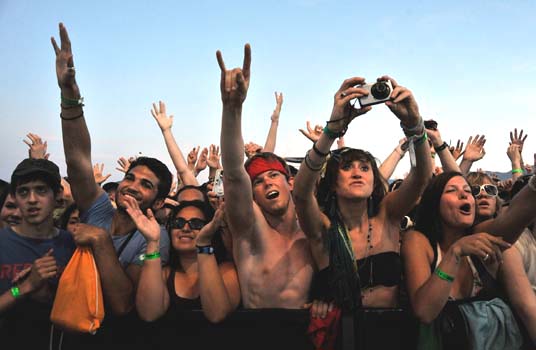 Plan your North By 35 experience with this complete festival schedule (as of March 10, 2010).
Click the venue name to see the schedule:
Andy's Bar | Circa 11| Boiler Room | Texas 8 Ball | Dan's Silver Leaf | Hailey's | The Hydrant | J&J's Pizza | Jupiter House Coffee | North Texas Fairgrounds | Rubber Gloves Rehersal Studios | Sweetwater Grill & Tavern
Andy's Bar
122 N. Locust Street #8
(940)565-5400

Thursday
History At Our Disposal
Nervous Curtains (Dallas)
New Science Projects
The Great Tyrant (Fort Worth)
The Timeline Post
Friday
Western Vinyl
Sleep Whale
Ola Podrida (Austin)
Mount Righteous (Grapevine)
Spooky Folk
Caleb Ian Campbell

Saturday
Colour Music (Piedmont, OK)
The Laughing (Austin)
Sarah Reddington (Denton/Portland)
BigBang (Los Angeles/Oslo)
Sunday
DJ MomJeans (Hollywood, CA)
Pigeon John (Northridge, CA)
Damaged Good$ (Dallas)
Dem Southernfolkz (Dallas)
Yeahdef
Sore Losers
I-45 (Houston)
Anonymous Culture (Dallas)

Circa 11
225 W. Oak Street

Thursday
Andrew Tinker
Har Herrar (Fort Worth)
Jessie Frye (DFW)
Small Time Ruffians
Friday
The POLYCORNS
The Demigs
Summer of Glaciers (San Francisco)
Lane & Paul

Saturday
The Naptime Shake (Dallas)
Warren Jackson Hearne and the Merrie Murdre of Gloomadeers
Guitar George Trio (Sanger)
Green Corn Revival (Weatherford, OK)
Sunday
Baruch the Scribe
The Hand Combine
Natalia Mallo (São Paulo, Brazil)
FELILI (Brooklyn)

Boiler Room
101 W. Hickory Street
(940)566-5483

Thursday
Kaboom
Orange Peel Sunshine (Dallas)
Snarky Puppy (Brooklyn)
Zlam Dunk
Zorch (Austin)
Friday
HEALTH (Los Angeles)
Record Hop
PVC Street Gang
Dear Human

Saturday
420 Blues
Oso Closo
Trebuchet
Sunday
Smile Smile (Dallas)
Giggle Party (Dallas)
The Terror Pigeon Dance Revolt! (Purchase, NY)
The Shakes (Los Angeles)
Math the Band (Providence, RI)
Fishboy

Texas 8 Ball
218 W. Oak St.
Friday
The Rocketboys (Austin)
Ha Ha Tonka
Here Holy Spain
Bridges & Blinking Lights
The Phuss (Fort Worth)

Saturday
Shiny Around the Edges
Dust Congress
.E
I Heart Lung (Long Beach/Pasadena, CA)
Mariachi Quetzal
Sunday
Harvey Sid Fisher
Peopleodian
Corporate Park
The Clouds Are Ghosts (Austin)

Dan's Silver Leaf
103 Industrial Street
(940)320-2000

Thursday
Carrie Rodriguez (Brooklyn)
Jacob Metcalf (Dallas)
OK Sweetheart
RTB2
Friday
Jupiter One (NYC)
Sarah Jaffe
Trespassers William (Seattle)
This Old House

Saturday
Slobberbone
The Low Lows
Robert Gomez
Sunday
Kissaway Trail (Odense, Denmark)
Pattern is Movement (Philadelphia, PA)
Via Audio (New York/Boston)
The Middle East (Queensland, Australia)
Autumn Owls (Dublin)

Hailey's
122 W. Mulberry Street
(940)332-1160

Thursday
My Empty Phantom
Saboteur (Dallas)
The Crash That Took Me (Dallas)
This Will Destroy You (San Marcos)
Friday
Woven Bones (Austin)
Fergus & Geronimo
Pure Ecstasy
Final Club

Saturday
The Black Angels (Austin)
Matthew and the Arrogant Sea
Jack With One Eye
The River Mouth
Sunday
The Walkmen (NYC)
Jookabox (Indianapolis)
Pomegranates (Cincinnati)
Follow That Bird! (Austin)

The Hydrant
208 W. Oak Street
(940)384-0033

Thursday
A.M. Ramblers
Daniel Folmer
Jenn Gooch
Roy Robertson
the cut off (Fort Worth)
Friday
Icarus Himself (Madison, Wisconsin)
Museum Creatures
The Angelus
Robot Arm

Saturday
Young and Brave
Minorcan (Austin)
Sarah Renfro (Brooklyn)
Claire Morales
Sunday
The Fieros (Brooklyn)
The Contingency Clause
Writer
The Wellington Lights
Little Birds (McKinney)

J&J's Pizza
118 W. Oak Street
(940)382-7769

Thursday
Cocky Americans (Dallas)
The Daily Beat
Parata
The Virgin Wolves
Friday
Moth Fight (Austin)
GioSafari (NYC)
Curvette
The Lonesome Heroes (Austin)
Electric Electric

Saturday
The Heelers
Joe Pug
Grandfather Child (Houston)
Paul Benjaman Band (Tulsa, OK)
Sunday
Unwed Sailor (Tulsa, OK)
A Shorline Dream (Denver, CO)
Hello Lover (Dallas)
Dim Locator
Hard Times

Jupiter House Coffee
106 North Locust Street
(940)387-7100

Thursday
Fox and the Bird (Richardson)
The Beaten Sea (Dallas)
Sabra Laval
Delmore Pilcrow
Friday
Points North
Nicholas Altobelli (Dallas)
Welcome Signs
Monastery

Saturday
Floating Action (Asheville, NC)
Feathers (Miami)
Br'er (Asheville, NC/Philadelphia)
Handbrake
Sunday
Strangers Family Band (Orlando)
Quiet Company (Austin)
Thunder Power (Omaha)
Drive Like Maria (The Netherlands)
The Diamond Center (Richmond, VA)
North Texas Fairgrounds
2217 N. Carroll Blvd
*Free Show*
MORE DETAILS AND FAQ
Grounds open at 3 p.m., show at 6 p.m.
Saturday
Midlake
Stardeath and Whire Dwarfs
The Flaming Lips

Rubber Gloves Rehersal Studios
411 E. Sycamore Street
(940)387-7781

Thursday
Evangelicals
Sunnybrook
Manned Missiles
Native Lights (Tulsa, OK)
Friday
Indian Jewelry (Houston)
Babar
White Drugs (Los Angeles)
hotel hotel (Austin)
Vexed UK

Saturday
Telegraph Canyon (Fort Worth)
Hog Pig
Doug Gillard (NYC)
Eaton Lake Tonics (Fort Worth)
Sunday
Neon Indian (Denton/Brooklyn)
Florene
French Horn Rebellion (Brooklyn/Milwaukee)
Ishi (Dallas)
Fur

Sweetwater Grill & Tavern
115 North Elm Street
(940)484-2888

Thursday
Julianna Barwick (Brooklyn)
Doug Burr
The POLYCORNS
Seryn
Glen Farris
Friday
Whiskey Folk Ramblers (Fort Worth)
Le Not So Hot Klub de Denton
Boxcar Bandits
Pinebox Serenade
The Jakeys

Saturday
Horse Feathers (Portland, OR)
Robert Ellis (Houston)
Dan Montgomery (Memphis)
Buffalo Clover (Nashville)
Sunday
Birds & Batteries (San Francisco)
Peasant (Doylestown, PA)
Western Giants
The Slow Burners
Galapaghost (Queens, NY)