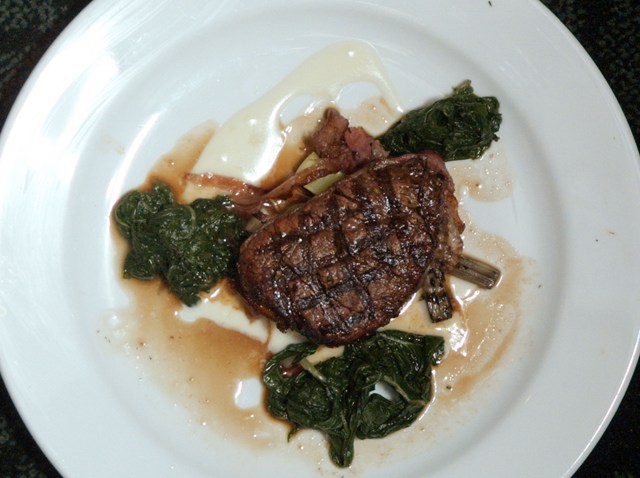 What does the newest Fry Street haunt purport to be for the once-beloved drag across from the University of North Texas? Pretty much everything to its closest neighbors. With free wi-fi, doors that stay open from 11 a.m. to 2 a.m. each day, and a menu that includes a beer tower and something called College Caviar, the missions of Fry Street Public House have one thing in common: convenience for co-eds. Well, co-eds especially skilled at eating steak with plasticware.
Owner Byron Crain first hyped the place up as a gastropub, a pub that serves food beyond standard bar-nacho fare. But the 21-and-up crowd are, of course, being served first, with those not yet legal getting bumped out at 10 p.m. and a priority on late-night DJ sets. The building housed The Drink just months ago, after all, and Crain himself turned the dance club/music venue into a restaurant.
Hungry students who don't have qualms about texting in class (we'd guess that covers quite a swath) can SMS orders for Scampied Shrimp or Chicken Cordon Bleu and loaf them back over to campus during short breaks. Not exactly the kind of food you can wolf down before Spanish class. There are burgers and sandwiches to choose from, too, like there are at Cool Beans, just doors down. The Public House seems to be a good bet for fitting a sit-down dinner date into a night packed with extracurriculars/studying/other dates. (According to the NT Daily, the texting thing didn't go too well at first.)
The sort of schizophrenic all-things-to-all-diners trend isn't contained to new spots in Denton's core. Cafe du Luxe, a new upscale coffee shop and wine bar that also serves bruschetta and hangs work by local artists and plays music by genre on different days and at different times, is cornering the market on discerning coffee drinkers with office jobs who prefer leather seating whilst laptopping (unless they're on the run, in which case they can just pull up to the window outside.)
Not that some won't find it nice to sit down and drink "private label" coffee away from philosophers sitting cross-legged on couches and conversing loudly, but velvet ropes, a cheese flight and a drive-thru? We have absolutely no idea what to wear or when to go. Is "muddled target demographic" an emerging trend as businesses shy from aiming at one group, or is the convenience of texted orders and drive-thrus no longer confined to burgers and tacos?
Copyright FREEL - NBC Local Media