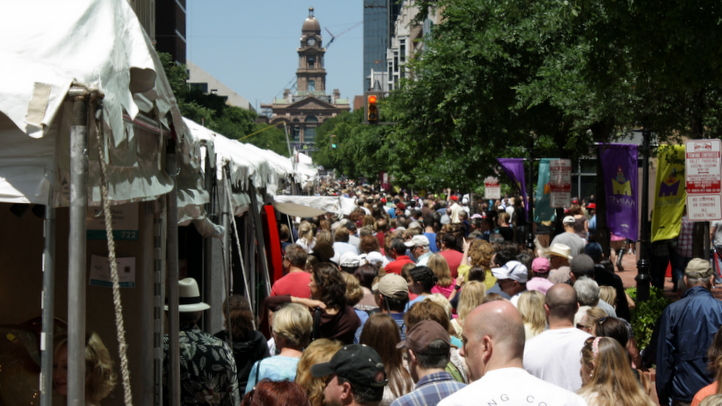 The Main Street Arts Festival returns to the streets of downtown Fort Worth from April 19-22, 2012.
The three-day long festival features live music, street performances, and, oh yeah, some art.
Lots of art, actually. Hundreds of artists line Main St. in Fort Worth with their pieces ready for sale to prospective collectors. The organization says over $4 million of art is sold during the fest, in types ranging from ceramics to paintings, jewelry, glass and metalwork, sculpture, and a whole lot more.
Just browsing the festival is worth is -- and that's not just because it's free to get in. In years past, we've enjoyed visiting with artists who are more than happy to explain their processes, inspiration, and how you can get started as a collector.
Though the art is a big draw, there's plenty of options to catch some tunes from the three major music stages or by visiting the Fort Worth Symphony Orchestra's open house at Bass Performance Hall. The FWSO will open the Bass Hall doors at 1:30 p.m. on Saturday, April 21, and perform concerts every 30 minutes between 2 and 4:30 p.m.
The festival starts at 10 a.m. each day, April 19-22, but ends at 10 p.m. Thursday, 11 p.m. Friday and Saturday, and 8 p.m. Sunday. Attendance is free, but all food and beverage locations use coupons available for sale at booths at the festival.
For more information and complete schedule, head to the official festival site.