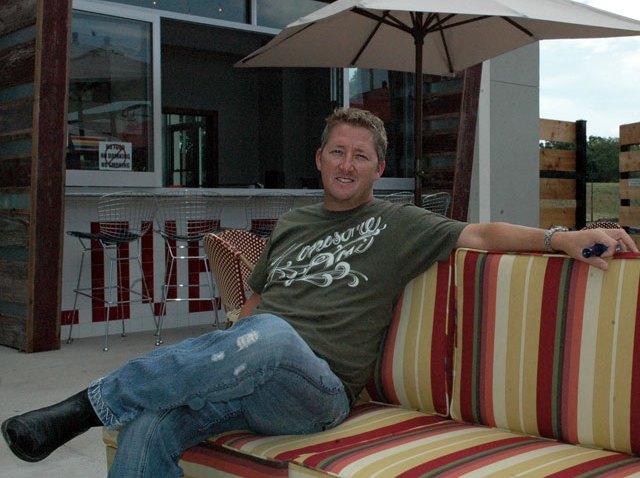 Chef Tim Love's new Love Shack off West 7th Street in Fort Worth opens for business Friday, July 31, and he promises award-winning burgers and good 'ole family fun.
"We want people to come out and have fun. We want to be a place for families," Love explained as he gave NBCDFW a tour of his new restaurant at 817 Matisse Street in the SoSeven development. (Check out our gallery from inside the Love Shack on the left)
Love Shack So7 has all the classics of the original location in the Stockyards -- like the Love Burger with the tasty love sauce, the Flying Dog made with chicken and apple bratwurst, and the homemade root beer -- but there are plenty of new items, too.
There's the grilled chicken sandwich he calls the Love Bird, a Classic Lobster Roll with Old Bay Potato Chips, a selection of salads, a family-style brunch on Sundays and a full cocktail bar where customers can get his Jalapeno Cucumber Margarita.
But the thing Love wants guests to enjoy most at his new burger joint is the open, relaxed family-friendly environment.
"I want the Love Shack to be place to have fun, and who better to learn that from than kids," said the father of three.
So, he brought in a specially-designed hopscotch court for kids, plus chalk so visitors can draw everywhere from the floors to the walls and tables. Monday nights from five to seven is kids' karaoke and that full cocktail bar will serve child-friendly versions.
Adults can get in on the fun, too, with a washer court, a bean bag toss, live music on the weekends and chalkboard walls in the restrooms that'll take 'em back to their high school days of writing "Emilie loves Tim" for all to see.
The center of the action is the patio that seats about 75. Staying cool in the summer will be easy with umbrellas that block the Texas sun and misting fans running -- outdoor heaters will warm guests in the winter.
There's space inside the restaurant for another 45 guests including a private dining area where Love can easily serve a 10-course meal for guests interested and willing to pay the price.
Windows that stretch from ceiling to floor let in lots of light and allows those inside to see outside and vice versa.
The faded red barn wood on the walls came from the ranches of Love's friends and sends a message about the chef himself.
"It doesn't look too polished. It looks like a butcher shop, and I like that. I'm a meat guy," said Love.
Love hired Fort Worth interior design business Johnson Seitz for the project, but he designed the restaurant and was involved in every detail from the kitchen to the kid-friendly atmosphere.
"It's an opportunity for us to do the full design and create the space we want. This is the style we want to take on the road. This will be the flagship," he explained. And yes, that means other Love Shack locations will follow in the future. Love is constantly on the look out for new locations including a potential Shack at Horseshoe Casino in Bossier City, Louisiana.
Love Shack So7 opens on July 31st. Hours will be Monday through Thurdsay, 11 a.m. to midnight. 11 a.m. - 2 a.m. Friday and Saturday. 11 a.m. to 11 p.m. on Sunday.
A grand opening celebration happens Sunday, Aug. 2, from 3 to 6 p.m. Love hosts "For the Love of Lamb" featuring a a cook off between the winner of Top Chef, Season 2, Ilan Hall and Season 4 contestant Richard Blais.
Local chefs from Fort Worth and Dallas will compete for Best Lamb Burger. American Lamb sponsors Love, and the partners invite families to come for "unlimited lamb and whole lotta fun." Just RSVP at loveshacklamb@baltzco.com.
Love Shack So7
817 Matisse St.
817-348-9655
shakeyourloveshack.com