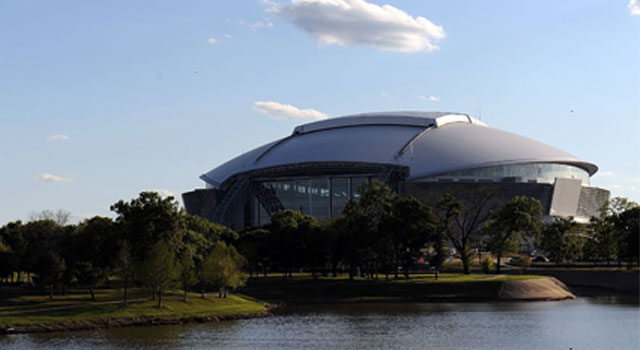 The constant drone of plastic stadium horns was only ambient to the cheers that erupted from the record-setting crowd of 82,252 at Cowboys Stadium Sunday afternoon.

Jerry World hosted its first nationally-televised sporting event -- with a Rangers game going on next door, no less -- and managed to avoid what could have been an unnatural disaster for the city of Arlington.

Traffic before the game was surprisingly easy, as soccer fans slowly trickled into the stadium for the CONCACAF Gold Cup doubleheader. Although the traffic leaving the stadium was much more congested than it was getting in, it wasn't much worse than what should be expected of any stadium event.

Costa Rica beat Guadeloupe 5-1 in the first game that didn't even fill half the seats. It served as more of a warmup for Mexico's 4-0 victory over Haiti in what appeared to be a sold-out home game for Mexico. (If a sea of 82,000 green Mexico jerseys and flags doesn't constitute a "home game," we're not sure what does.)

Despite the action on the field, it was hard for most to tear their eyes away from the centerpiece of the stadium, both literally and figuratively: the world's largest high-definition TV screen. A structure in and of itself, the king of all jumbotrons ensured that everyone from every seat had a crystal clear view of the game.

If the Gold Cup had been held in Texas Stadium, the fans would have been sweating right alongside their favorite players on the field. But not inside Cowboys Stadium -- the AC kept us cool and comfortable for the entire game.

After scouring the stadium for the infamous $13 burger and $5 bottle of water, we were also pleasantly surprised to find that those prices couldn't be found. $7 burgers and sandwiches, $7 beers and $3 waters were among the reasonably-priced concession goodies.

Whether prices were lowered specifically for the event or in response to the negative backlash, we'll definitely take it.

Jerry World gets a passing grade for its first sporting event, but that's not to say that there aren't still a few things to be smoothed out before Cowboys' season.

A random forklift was parked mid-ramp between the upper levels and the main concourse. While its oddity did provide some humor, it was probably more of a safety hazard than anything else.

But perhaps the most frustrating mishap was the lack of cell phone reception from within the stadium. Many were unable to send or receive calls and text messages, a problem that could have easily been remedied with several temporary cell phone towers.

Though 'futból' may not be as popular a sport as, well, football here in Texas, the level of noise and excitement from Mexico's fans may very well have been as much as, if not more than, what could be expected from a Cowboys' game. There's nothing quite like seeing fans on 4 levels of a stadium do "the wave" in unison.