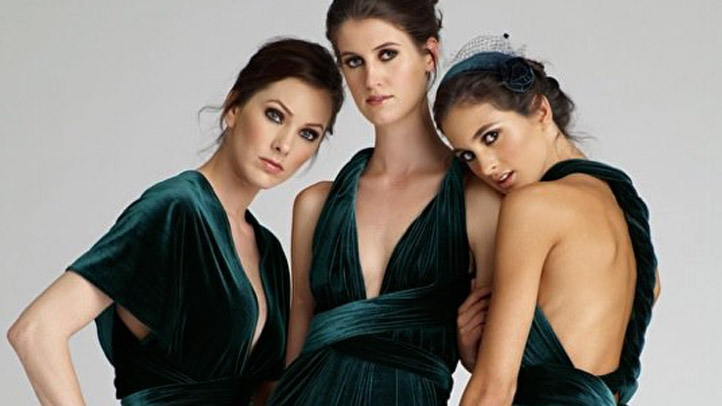 Dallas darlings Cheryl and Lindsey Burris are the mother-daughter design team behind our latest fashionable obsession, Vintage Origin. Their signature creation, the "Infinity" dress, just might be the perfect frock thanks to its laid-back yet luxe aesthetic, and we recently caught up with Lindsey to find out more about the newly minted label and what inspired their unique line.
What inspired the name of your label, Vintage Origin?
"It's actually a literal reference to the vintage pieces that inspired our dresses.There was one item specifically - my Mom's high school prom dress - that I fell in love with when I discovered it in her closet years ago, and I even talked her into making me a copy of the dress to wear to my own prom! The idea for our 'Infinity' dress came from that one, ageless style. Also, as a tribute to our vintage influences, we hand-craft each tag sewn into our dresses from fabric recycled from garments once worn by me or my Mom."
What's it like working with your Mom, Cheryl, everyday?
"I couldn't have a more perfect business partner. Seriously. We already know what the other is thinking when we collaborate, and we're both strong personalities who will fight for what we want creatively, which has resulted in a better collection! Vintage Origin was an amazing project for us as we dealt with my Dad's struggle with cancer. It created a bond and a distraction that we both needed."
How does Vintage Origin reflect the challenges your family was facing when you two started the collection?
"Immediately, we knew we wanted to find a way to give back to the medical community that helped my Dad recover from colon cancer, and we decided to donate a dollar from every sale we made to the Susan Cohan Colon Cancer Foundation. Dad's been in remission for over two months, and we are so grateful everyday for where we are as a family."
How does concept for the "Infinity" dress work, exactly? More importantly, how can we buy one asap?
"Well, the dress is intended to be worn in at least 10 different ways, literally. The top of the 'Infinity' can be tied into any of the 10 styles so that you can adjust everything from the neckline to the length to the arm coverage of the dress, and when a woman buys one of our dresses, she's able to totally customize the piece since she can choose any of our fabrics and any hemline. Ordering is super simple via our website, since you can view every option, fabrication, and color."
What is your favorite fabric choice and how do you style your "Infinity" most often?
"I love all the 'slinky' fabrics, and my go-to choices are the 'Not Your Mama's Floral' and the rich, 'Bianca' fabric, which is so gypset. As for styling, I like the halter shapes, and I'll tie them with or without the sleeves depending on where I'm headed. The styles I use most are listed as number one and two under our 'How-To-Style' section online."
Is this the first time either you or your Mom have helmed a collection?
"Yes and no. For me, definitely yes! But my Mom has worked as a designer for almost two decades crafting custom wedding veils in addition to other bridal apparel. She is truly talented, and the wedding dresses Vintage Origin does reflect her incredible skill and attention to detail."
Each Vintage Origin dress is made locally, right here in Big D, and it's worth noting that, no matter what fabrication you choose, every dress promises to be stain and wrinkle resistant. Not to mention the dresses are among the most comfortably chic finds we've ever had the pleasure of slipping into.
Snag a Vintage Origin dress for yourself online via the label's website, and check out the gallery for a look at our top picks.
Copyright FREEL - NBC Local Media