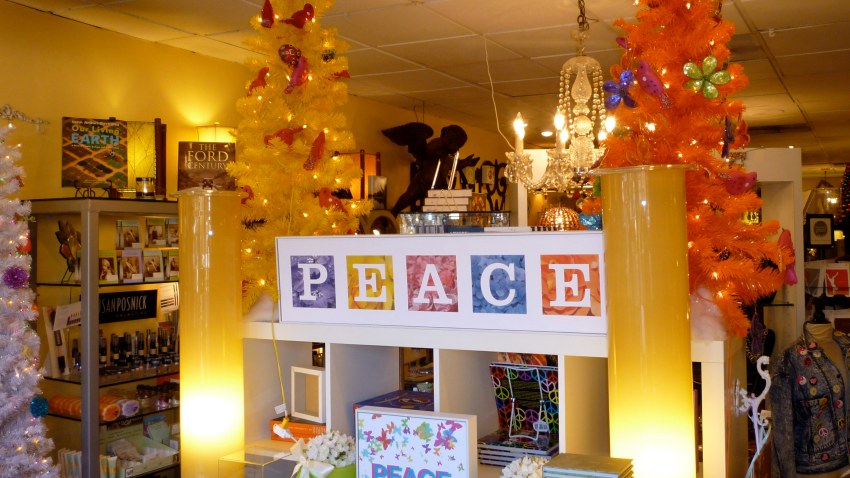 Grab your list and check it twice as you take a holiday shopping tour of Lakewood in Dallas.

HIPPIE CHIC:
Begin your gift gathering with a "Hippie Holiday" at Talulah Belle (2017 Abrams Rd.). Owner Elizabeth Mast's spinning classic rock this Christmas season and she's decked her halls with peace signs galore. Enjoy the retro atmosphere while you shop gifts in step with the theme like mood rings ($2), peace sign stud earrings ($24) and tie dye throws ($94). And that's not even the half of it. Talulah Belle prides itself in showcasing local products such as jewelry by Sam Kraus and Child perfume, and don't miss the tempting selection of colorful pashminas ($10) to boot!

GET LOST:
Next, wander a few doors down to Curiosities (2025 Abrams Rd.) for a mini antique adventure. We dare you to spend less than 30 minutes inside this multi-vendor shop, packed as it is with vintage décor, art, tableware and more. It's easy to get lost at Curiosities, but you'll enjoy every aimless minute.

GREEN WITH ENVY:
Have you scoped out the big new Lakewood Whole Foods (2118 Abrams Rd.) yet? If not, you're in for a treat…just don't be surprised if you come away with a case of "Market Envy". Not only does the store feature expansive prepared foods and produce sections, but it's also a great place to pick up pre-wrapped give-ables like fruitcakes, fudge and taffy. Also tied up with a pretty little bow, Rudolf Müller "Rabbit" Riesling is a great find at just $7.99. Oh, and grab a snack for yourself while you're at it; you'll need your strength for the shopping yet to come.

THINK GLOBALLY:
After you've nibbled your way through Whole Foods, head over to Green Living (1904 Abrams Pkwy.) near the Lakewood Theater. We can't remember the last time we visited this eco-friendly emporium without finding something we couldn't live without. For the holidays, we're keen on Plum Island bath products and gorgeous goblets crafted from reclaimed wine bottles. (Don't forget to check Green Living's website before you go for that day's 12 Days of Green Giving special!)

PRETTY THINGS:
Splendor in the Grass (1900 Abrams Pkwy.) is up next, a beading emporium that glitters with possibilities. Featuring a stunning assortment of beads from around the world, the shop also offers classes in beginning and advanced-level jewelry-making. Gift certificates are available, and we're thinking they'd make a great gift for the budding artist in your list. Pack one up with a ready-made stretch bracelet ($10 each or three for $25) and you've creatively crossed another name off your list.

TEX-MEX LEGEND:
Finally, with a successful day of shopping on the books, it's time for a Tex-Mex treat. Matt's Rancho Martinez (6332 La Vista Rd.) has been awarded more "Best Of" titles than we have room to print, and founder Matt Martinez is widely regarded as a legend among Dallas restaurateurs. Dip into an addictive bowl of Bob Armstrong Dip in his memory, Matt's famous blend of queso, guacamole, seasoned beef and sour cream. Follow it up with a pecan and raisin-topped Chile Relleno and a sweet slice of Margarita Pie. Then, after dinner, detour down Swiss Avenue and check out all the lovely lights. Don't ya just love Lakewood?
Copyright FREEL - NBC Local Media