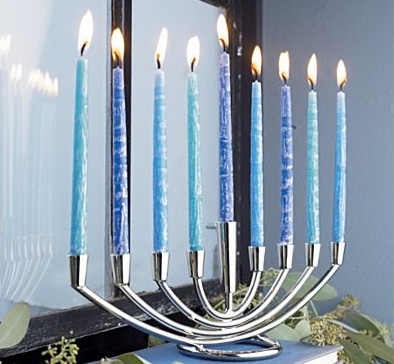 SIMPLY ELEGANT: Crate and Barrel's shining silver Menorah features clean, contemporary lines to coordinate with just about any decorating theme. In stainless steel with a polished nickel finish, it's on sale now for $19.95 (marked down from $26.95). Pick up a box or two of Menorah candles while you're at it ($5.95 each), also simple and chic in plain white paraffin.

CHOCOLATE FIX: Remember the waxy gelt you suffered through as a child? Those flavorless coins that left you longing for a good old fashioned Hershey bar? These ain't them. Packed with golden gelt, Dylan's Candy Bar's Dreidel Box glitters in multi-colored sequins. Now that's festive! A delicious gift for grown-ups and kids alike, it's $18 online.

GAME ON: You saw it here first, folks – Texas No Limit Dreidel. For players 12 and up, this twist on tradition combines poker with everybody's favorite Hanukkah pastime. Just watch out for your cousin in the ball cap and sunglasses; we have a feeling he's not bluffing. Available for $14.95 or $29.95 (Deluxe Edition) from Judaism.com.
Copyright FREEL - NBC Local Media