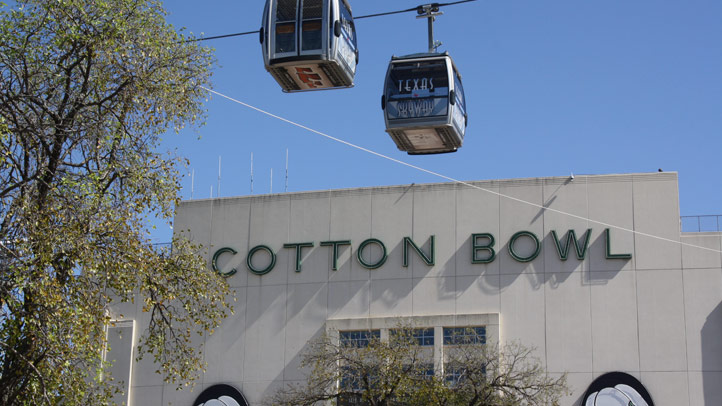 Known as the Red River Rivalry, the Texas versus Oklahoma game is Dallas' biggest college game day -- especially now that the Cotton Bowl game has been moved to Jerryworld. Luckily, the real Cotton Bowl building is still in the super cool Fair Park and ready to host the Longhorns and Sooners in their annual face-off.

Here's some important info to keep your game day from becoming a lame day.
Clash of the Titans
Both Texas and Oklahoma come into the Red River Rivalry as undefeated football teams, so you know they're good. Add in all the realignment talks and other Big 12 drama, plus the normal national attention, and this game might will be the talk of the weekend in college football. Makes you kinda happy to see it up close, huh?
Traffic Troubles
It's DFW, you know there's construction on area highways. But this weekend, thousands of football fans will come into the area...and the roads will be a little more ready. All I-35 construction projects will take a breather and have all lanes open from early Friday morning until late Monday evening. Still, be ready for heavy bottlenecks and 30 miles of construction. Check www.my35.org to find out where all the trouble spots are.
A Rail-y Good Idea
Fair Park does have some good parking options, but they're definitely not as convenient as riding the DART rail to the front gate. After a two-year old rail fail, DART has really stepped up its preparation game to provide good service to and from the park on game day, including providing a new, quicker route. DART will even have buses on standby to take fans to the game if the trains get too full. Plan on arriving three hours before kick off to make sure you're on the train with all the other rowdy fans.
OU Central, Miles From the Border
Denton is pretty close to Oklahoma. In fact, about a two hour drive north will get you to the heart of Sooner country. That's part of the reason the city's convention and visitors bureau is campaigning for Sooners to buy up a cheap hotel/entertainment package and stay in Denton. They're even calling the city "Oklahoma Headquarters" during the annual TX/game day.
Pulling Off a Victory
Each year, Texas and OU fans try to pull a Southwest Airlines 737 50 yards at Love Field in something called the Pigskin Plane Pull. Whoever wins that contest seems to lose the later football game, just like the Longhorns did last year. Check out some video of the pull and see if the fans are really trying to win...just so their team can lose.
Wearing It Out
TX/OU fans are known for busting out the stylish gameday clothes to let everyone know who they're pulling for. But if you're still looking for that chic wear for the Fair, check out Gameday Cloth in Plano, where they've got tees, dresses, accessories, and more highlighting local colleges. We've found some super cute TX/OU stuff there, but that's just the start -- the shop was founded by two SMU alumns, so there's definitely some pony gear ready for purchase.
It's Still Fair Time
One of the biggest reasons we like Red River Rivalry weekend is because all the football fans can also enjoy the State Fair of Texas, which surrounds the Cotton Bowl during the weekend. We've got TONS of State Fair content on the site to whet your appetite for fried foods and midway fun. Football + Fair = Awesome in our book.