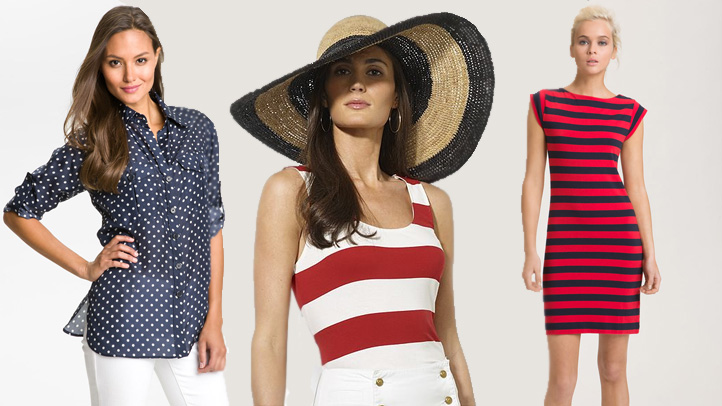 If you want to look your best at all of those Fourth of July gatherings, but you're not interested in sacrificing your comfort in the Texas heat, you're in the right place. Put down the water mister and step away from that box fan; this is your fashion run-down on how to be cool in even the worst weather Texas has to offer.
Dressing to the Fourth of July theme doesn't mean you have to be your own parade float. Don't overload on American flags. While the colors red, white and blue are fun to incorporate for the holiday, flags aren't always necessary to show your enthusiasm. Also set aside the idea that the fourth is a day to wear every single red, white or blue item you own. Focus on the look; not just the colors.
A great summer staple that goes beyond this patriotic holiday is a pair of white jeans. Jeans have such a stigma for being too hot for summer wear, but critics couldn't be more wrong. Choose jeans in a light denim or a fabric that breathes, and think about rolling your jeans for a fun (and cool) effect. White capris or jeans in tapered, boot-cut or flare fits can be flattering on any figure. If jeans just aren't your favorite, try lenin pants in white or neutral colors. Target has a wide variety of white denim that can be a fantastic focal point of any outfit.
Navy and white polka dots are a welcoming print that alludes to the stars on the flag without being literal. Try a loose-fitting button-up or an airy scarf in this print, but be careful to use it in moderation, as it can become overwhelming.
Nautical stripes in red or navy are a fun take on the patriotic theme, as well as being incredibly easy to pair. Try matching a red and white striped tank, like this one from Macy's with white jeans or these embellished shorts, and top it off with gold or nautical themed accessories. For an evening out this Fourth, try something like this French Connection dress from Nordstrom for $78.00.
Maxi dresses in reds and navies are simple and so comfortable. Strapless or spaghetti-strapped maxi dresses can be a little revealing, so be on the lookout ones with sleeves, like this one from Target, or for additional pieces to pair it with. Summer knits are a great way to cover up and add a pop of contrasting color. Try something in a pale gold or silver, like this circle shrug from Lane Bryant.
Don't forget to put your best foot forward with a cute pair of shoes, like these tastefully sparkly Sam Edelman sandals or these Dolce Vita wedges, both from Nordstrom. Finishing touches should include statement pieces or colorful accessories that will make your fellow party-goers green with envy. This red necklace, these bangles, and these earrings are all great finds for $7.80 or less from Forever 21.
Put your flags at half-staff for the fashion sins we know better than to commit. Wave a silent good-bye to those star-spangled tee-shirts, sequined visors, and American flag sunglasses and say hello to fun, freedom-themed fashion.