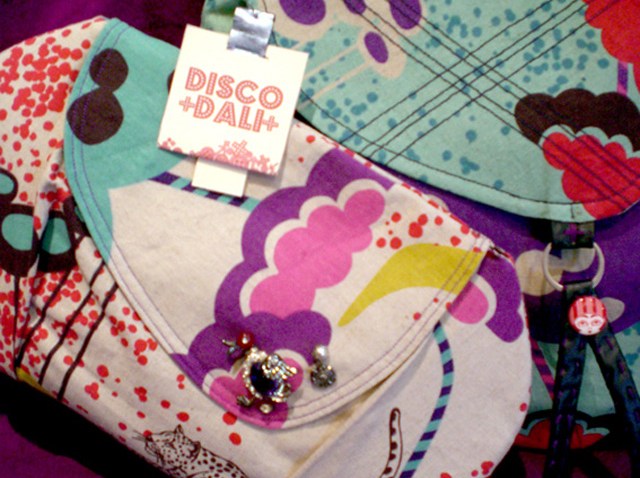 On October 10 and 11, the Bishop Arts District will turn inside out with recovered housewares, pillows, hand-stitched dresses, jewelry, and purses -- lots and lots of purses -- lining the streets for Make's Urban Bazaar 9. The giant two-day handmade sale will give Etsy-ers and lovers of indie-made goods, who often collect their treasures by way of desk chair, a chance to meet artists and designers who pour their time into the little details that make up a whole culture.
In anticipation of the 85 designers that will set up at the sale, we introduce Tara Johnson, the Soft Cell fan behind the Disco Dali booth. The name of her line of purses and accessories recalls a lyric by the English synth-pop band -- "luring disco dollies to a life of vice" ("handmade vice," Johnson explains) -- while paying homage to artist Salvador Dali. But there are no melting handbags or refrigerator box-sized wallets in Johnson's repertoire. For her, Dali's fantasies inspire a blend of vintage brooches and buttons, asymmetrical flaps and funky stitching with a personality that's artistic but approachable.
Here are our picks from Disco Dali's reserve for Urban Bazaar 9:
The deal: Wallet/Card Case in black, grey, and gold, $14. We love to buy our most functional items handmade, because we see them the most. This piece is a good example of what you'll be able to find at the bazaar for under $20. (And grey and gold should buddy up more, really.)
The splurge: Vintage 'Ikat' Print Anti-Symmetric Tote, $65. Pop art Monet, anyone? This bag features a sensible strap with a mock-watercolor print and a flap that slopes ever so slightly, with a stitched border to enhance the dizzy shape.
P.S.: Johnson offers this tip for beginning seamstresses: "When you're first starting out and learning how to sew, don't be a perfectionist -- sewing will go from fun to frustrating," she writes. "If you are having trouble with a piece or section, don't obsess. Put it aside and work on something else. A new method or solution will come to you when you give it a fresh look."
Copyright FREEL - NBC Local Media