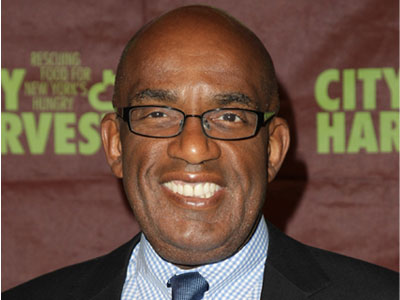 Weather didn't cooperate with America's favorite weatherman, the Today show's Al Roker.
Roker was scheduled to appear at a Dallas Borders to talk about and sign copies of his new mystery novel, "The Midnight Show Murders."
But he could not travel to North Texas because of bad weather in New York. His publisher is working with the bookstore to reschedule the signing.
The sequel marks the return of his chef sleuth, Billy Blessing, who first appeared in Roker's "The Morning Show Murders."
...Blessing once again finds himself in hot water, when a brutal killing cancels a TV show-and its host-during its debut.

Billy has never liked going to the West Coast, but when he runs into high-energy comic Desmond O'Day, he reluctantly agrees to play second banana on the funnyman's new late-night talk show. Los Angeles holds bad-and bloody-memories for Billy. Twenty years ago, he had suspected obnoxious chef Roger Charbonnet of murdering his ex-starlet girlfriend there, and told the cops. A tricked-up alibi freed Roger, who vowed vengeance. And now Billy might be on the verge of getting burned.

After a horrifying explosion during a TV taping kills more than Desmond O'Day's chance at high ratings, Billy believes that he was the intended target-and that Roger Charbonnet was somehow involved. And when politics, infidelity, and high finance are sprinkled in, the case turns out to have more ingredients than Billy could ever have imagined. Soon a beautiful female TV producer convinces Billy to find the culprit himself-on camera. And the table's set for a conspiracy with too many cooks and far too many killers.