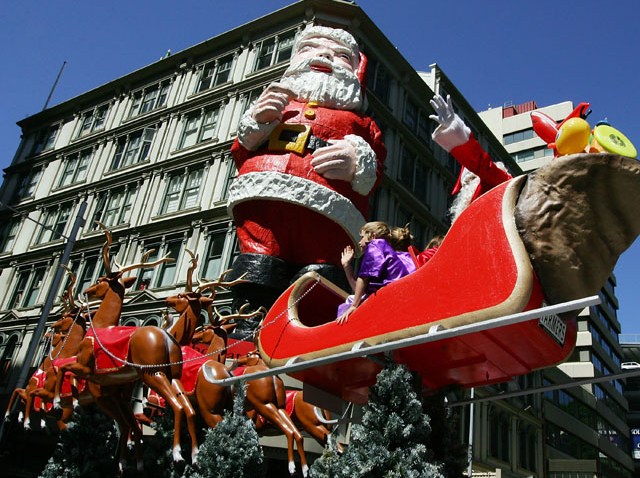 MANNING SANTA'S BASE: Retail monkeys, author David Sedaris has been there. He stood at the gates of chaos at Macy's in Manhattan as Crumpet the Elf, watching crazed shoppers with horror from the SantaLand display. And the shrill-voiced funnyman lived to write a one-man show about it: SantaLand Diaries. See Nye Cooper in the lead role at Contemporary Theatre of Dallas at 8PM. Ticket info here.
BUXOM NUTCRACKER: Cheer on the Beulaville Baptist Book Club as they scrape into uncharted fundraising territory to save their group with a performance of Tshaikovshy's The Nutcracker by the Velvet Kittens Burlesque Dancers. Well, first they'll need to learn how to pronounce "Bur-less-Q". Stone Cottage Theatre pays homage to last-minute problem solving required by the season with the comedy The Beulaville Baptist Book Club Presents: A Bur-less-Q Nutcracker. 8PM. Call 940.450.6241 for ticket information.
FORT LIGHT: Of course we're ready for another parade! Fort Worth gets with it early as Chesapeake Energy's Parade of Lights dominates the center of the city with floats, bands, dancers, and the works. You can attend for free, but special seating and perks are available. Look for NBC5's Tammy Dombeck and 97.1 The Eagle's Angela Chase at the announcing posts. And, you know Santa will make an appearance. Parade starts at 6PM at Throckmorton and Belknap Streets. Find more information about tickets here.
Copyright FREEL - NBC Local Media