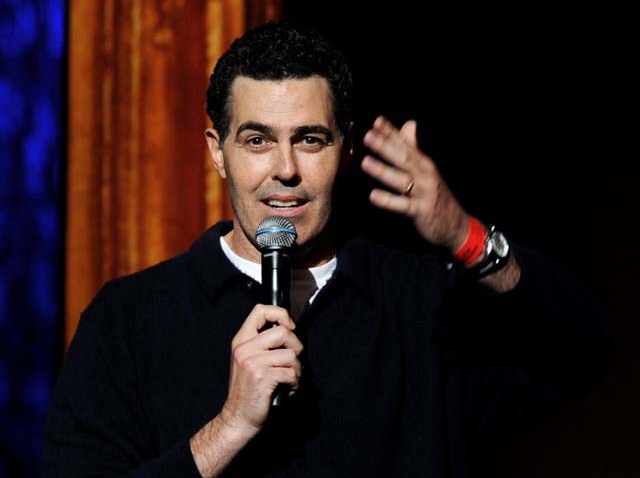 RUDE, CRUDE DUDE WITH A FUNNY ATTITUDE: Adam Carolla didn't just pop up one day and decide to tell jokes for a living – he's been in this comic game for more than a decade (back when "Loveline" was still happening on MTV). The comedian/television host is probably most recognized for his work on the testosterone-driven "The Man Show" on Comedy Central. Now, you can download the jokester from his self-titled show on his website titled "The Adam Carolla Podcast" and hear him grip about why he hates pretty much everything, everyday – it's the most downloaded show. See the funnyman tonight at the Addison Improv at 8 p.m.
UNDER THE SEA: The Museum of Nature and Science showcases a ton of cool wildlife underground, aboveground, and even some that are 82 million years old. Underwater creatures are discovered and brought to life in the splashing exploration "Sea Monsters: A Prehistoric Adventure" currently at the museum. Children, classes and even grown-ups can meet a Tusoteuthis (a huge squid) or a Hesperornis (ancient underwater birds) all through paleontological re-creations on display. Click here for exhibit showtimes.
MEAT IN A CAN, PERFECT FOR DIPPING: It's finally here, we know you all have been holding your breath in anticipation for (wait for it) The Great American Spam Championship at the State Fair of Texas! The "crazy tasty" mystery meat is really a combination of ham, salt, water, potato starch, and sodium nitrate – in case you were wondering. Today the judging begins at 10:30 p.m. as chefs, moms, and Spam lovers alike compete for the chance to win a trip to the Spam Jam event in Hawaii. Who knew Spam could take you so far? May the best Spammer win.
---
Get to know What You're Doing Tonight every day by connecting with NBCDFW Around Town. Text DFWTonight to 622339 to get WYDT updates right on your mobile device. Still need more things to do? Check out our Events Calendar.
Copyright FREEL - NBC Local Media