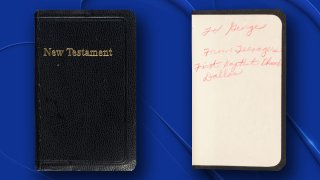 On Dec. 5, 20 years will have passed since Steve Blow, then a columnist for The Dallas Morning News, wrote a piece that brought together two unlikely entities — Beatles great George Harrison and First Baptist Dallas, which today has a congregation of more than 13,000 members.
Blow wrote about Dallas collector Charles Heard having acquired a New Testament Bible, one of several given to the Beatles during their only visit to Dallas on Sept. 18, 1964, less than a year after the assassination of President John F. Kennedy on Elm Street.
Fast forward to Nov. 6, 2021, when Heard's prized possession will be sold at auction by Dallas-based Heritage Auctions. So far, the bidding has reached $3,000.
Read more from NBC 5's media partner The Dallas Morning News.
Copyright The Dallas Morning News