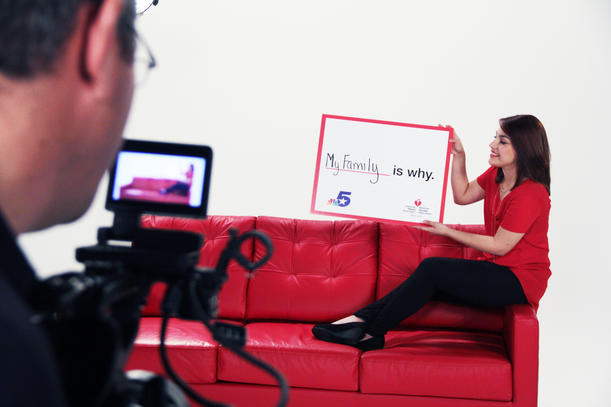 SUBMIT YOUR VIDEO TODAY!
February is Heart Month and NBC 5 and the American Heart Association want to know WHY you want to fight heart disease and stroke and live a longer, healthier life. Videos should have a positive tone and be personal, compelling, inspiring, and thoughtful.

The theme of our campaign is "Life is Why."

Video Submission Guidelines:
Submission period is Now - February 28, 2015
Submissions must be in video - Landscape - Orientation format. Feel free to tape your video on your cell phone. Best quality to use is 720p HD resolution or higher.
Video must be :60 seconds or less.
All photo, video and audio content used in the video submissions must be original or the entrant must have the right to use the content for the video.
Please wear red during the video to support heart month. Download the "Life is Why" flyer and complete it by filling in your reason to have a healthy heart. Please display the completed sign in your video submission. To download the flyer, please print in landscape format and CLICK HERE.
Topics:
:60 second video submitted by viewers needs to be relevant to the following topics pertaining to Heart Disease - Survivor, In Memoriam or Lifestyle Change. Your story can be simple or very creative.

Survivor
It can include a wide range of topics and conditions such as heart attack, cardiac arrest, heart transplant, stents, stroke, congenital heart defects and more.
Stories should include details on diagnosis, treatment and outcome. Compelling stories include an overall message of hope and perseverance that builds awareness around the many facets of heart disease and stroke.
In Memoriam
As heart disease continues to be the number one cause of death of all Americans, many families are touched in a variety of ways by this devastating disease. Viewers who have been impacted as a result of losing a loved one to heart disease (i.e. family member, friend, co-worker, or neighbor) are encouraged to submit a message either in tribute of that person or sharing how that person's death has affected them.
The submission should include information on the relationship, why they are being honored or how the loss has impacted the viewer's life.

Lifestyle Change
Up to 80 percent of heart disease and stroke are largely preventable, and yet over 80 million Americans continue to suffer from one or more types of cardiovascular disease. Simple changes to one's lifestyle can drastically reduce risk or prevent heart disease from ever taking hold.
Viewers who have made a significant and positive change to their lifestyle are encouraged to share their journey with us. Lifestyle changes include, but are not limited to improvements in diet, exercise, risk factor management and smoking cessation.
Compelling entries will showcase positive lifestyle changes such as weight reduction, improvement in metabolic numbers (blood pressure, glucose, triglycerides, etc.), overall increase in quality of life, etc.
How to Submit: Videos must be submitted by e-mail to isee@nbcdfw.com or CLICK HERE to upload your video by 11:59 p.m. CT Saturday, February 28, 2015. Uploading your video gives NBC 5/KXAS-TV the right and permission to post your video on NBCDFW.com for public viewing. All videos must adhere to the aforementioned guidelines.
To View Video: Approved videos can be viewed by visiting NBCDFW.com, search "Heart Month." The name of the heart month campaign is "Life is Why."

Submissions will be reviewed and evaluated by NBC 5/KXAS-TV staff members. Videos will be evaluated based on their relevance to the topics related to the campaign, as well as creativity and originality. NBC 5/KXAS-TV reserves the right to select which videos will be uploaded to NBCDFW.com for viewing. Please note that videos using any foul language or inappropriate actions, as deemed so by the selection committee, will be disqualified. Any videos over 60 seconds will be discarded. This program is not a contest. No prizes will be awarded.
Nada Ruddock - Arlington, Texas: