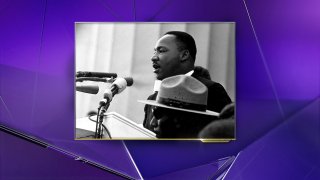 Join NBC 5 and the City of Arlington and help us celebrate Dr. Martin Luther King Jr.'s birthday. The City of Arlington will host the exciting four-day event, "Advancing the Dream Celebration," January 15 – 18 with free virtual programs that will empower our community.
Arlington's Advancing the Dream Celebration is an event for all ages. Attendees can participate in the kick-off event on Friday, January 15th at 6pm. Throughout the weekend, you can also enjoy the Step Show and Drumline presentation, Poetry Meets Jazz, the Hubert Moss Ecumenical Service, the Zeb Strong, Jr. Day of Service and the Day of Service Festival.
Over the years, Arlington's community has played a major part in the success of Arlington's MLK Celebration. The Arlington's MLK Celebration's dynamic committee strives to keep the dream alive through "Advancing the Dream."
Events for Advancing the Dream Celebration
Friday, January 15
6:00 p.m. – Kick-Off
Local
The latest news from around North Texas.
Saturday, January 16
10:00 a.m. – Step Show and Drumline
7:00 p.m. - Poetry Meets Jazz with Verb Kulture
Sunday, January 17
6:00 p.m. – Hubert Moss Ecumenical Service
Monday, January 18
(All Day) – Zeb Strong, Jr. Day of Service: "Make it a Day On, Not a Day Off"
10:00 a.m. – Day of Service Festival
For more information and to access the virtual events, visit https://www.arlingtontx.gov/residents/events/advancing_the_dream_celebration
Advancing the Dream Celebration
Honoring Dr. Martin Luther King, Jr.
City of Arlington Virtual Events
Free and Open to the Public January 15 – 18