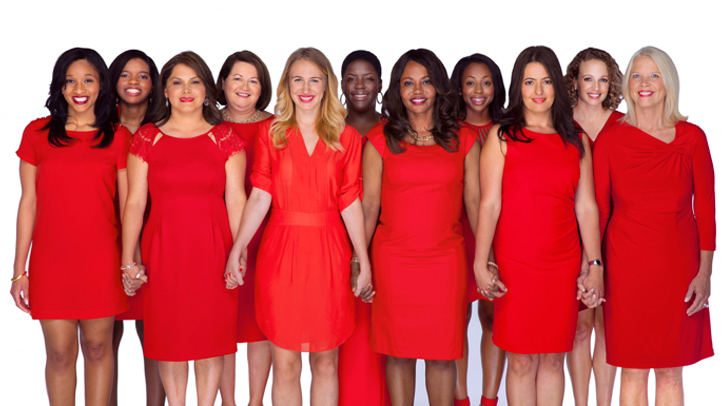 Heart disease has been called the Silent Killer because it often has no noticeable symptoms. It's more deadly than all forms of cancer combined. In 2003, research revealed that heart disease was by far the No. 1 killer of women, and actually killed more women than men. To save lives and raise awareness of this serious issue, the American Heart Association launched Go Red For Women. And the red dress has become the iconic symbol of our battle against heart disease in women
A Decade of Success
Since the first National Wear Red Day in 2003, the American Heart Association has made tremendous strides in the fight against heart disease in women. Through research and education to healthy lifestyle changes.
1. 34% fewer women now die from heart disease, saving 330 lives every day.
2. More women are taking ownership of their health by developing healthy lifestyles:
37% are losing weight
43% are checking their cholesterol
more than 50% exercise more
60% have improved their diets
33% have developed heart health plans with their doctor.
3. Awareness is up. 23% more Americans now realize heart disease is the #1 killer of women.
4. Awareness among minorities is up, doubling among Hispanic women and tripling among African American women.
5. 15% have quit smoking, and high cholesterol has declined by 18%
6. More communities have joined the fight. Registration in Go Red For Women is now more than 1.75 million. More than 25 million Red Dress Pins have been worn to support the cause. More than 185 cities host GRFW events and luncheons. And more than 2,000 landmarks light up in red on National Wear Red Day.
7. Legislative efforts are making a difference. Women no longer pay higher premiums than men for health coverage. And 20 states have programs for low-income women to get screenings for heart disease and strokes through the Centers for Disease Control and Prevention's WISEWOMAN.
8. More gender-specific guidelines have been developed, because women's symptoms and responses to medication differ from men's.
9. Gender-specific medical research is up. The FDA now requires clinical trial results be reported by gender.
10. Gender-specific inequalities have been identified, ensuring women receive the same level of heart treatment as men.
Community
Connecting NBC 5 to the community we serve.
Want to know the Secret to healthy living?

The American Heart Association sought out ways to implement healthy habits into daily activity and found what The American Heart Association calls Life's Simple Seven, a set of guidelines to help individuals better understand ideal cardiovascular health and the daily habits required to meet this quality of individual health.

Life's Simple Seven include:
1. Getting Active
2. Controlling Cholesterol
3. Eating Better
4. Managing Blood Pressure
5. Losing Weight
6. Reducing Blood Sugar
7. Stop Smoking

Get Active
Exercising for as little as 30 minutes each day you can reduce your risk of heart disease. Without regular physical activity, the body slowly loses its strength and ability to function well. Physical activity = living a longer, healthier life.

• American Heart Association Guidelines
Suggests at least 150 minutes per week of moderate exercise or 75 minutes per week of vigorous exercise – or a combination of moderate and vigorous. Physical activity is anything that makes you move your body and burns calories, such as walking, jogging, swimming or biking. Strength and stretching exercises are best for overall stamina and flexibility.

Control Cholesterol
It's normal to have cholesterol; it's an important part of a healthy body because it's used for producing cell membranes and some hormones, and serves other needed bodily functions. But too much cholesterol in the blood is a major risk factor for coronary heart disease, which leads to heart attack and stroke.

• American Heart Association Recommendations
It's important for all people to know their cholesterol level. Total blood cholesterol is the most common measurement of blood cholesterol. A cholesterol level of 200 mg/dL or higher puts you in a high-risk category and is cause to take action.

Eat Better
A healthy diet and lifestyle are your best weapons to fight cardiovascular disease. It's the overall pattern of your choices that counts most. Head to the American Heart Association Nutrition Center for guidelines and suggestions, americanheart.org/nutrition.

Manage Blood Pressure
High blood pressure is the single most significant risk factor for heart disease. Uncontrolled high blood pressure can injure or kill you. It's sometimes called "the silent killer" because it has no symptoms. Blockages and blood clots mean less blood can get to our vital organs, and without blood, the tissue dies.

• American Heart Association Guidelines
While there is no cure, high blood pressure is manageable. Even if your blood pressure is normal (less than 120 mm Hg systolic AND less than 80 mm Hg diastolic), lifestyle modifications provide a prescription for healthy living. Eating a heart-healthy diet, reducing salt, enjoying regular physical activity, maintaining a healthy weight, managing stress, limiting alcohol, and voiding tobacco smoke may reduce your blood pressure without the use of medication.

Lose Weight
Among Americans age 20 and older, 145 million are overweight or obese. That's 76.9 million men and 68.1 million women. This is of great concern especially since obesity is now recognized as a major, independent risk factor for heart disease. If you're overweight or obese, you can reduce your risk for heart disease by successfully losing weight and keeping it off. When coming up with a fitness and nutrition plan to lose weight, it's crucial to understand your recommended calorie intake

Reduce Blood Sugar
The American Heart Association considers diabetes one of the six major controllable risk factors for cardiovascular disease. In fact, adults with diabetes are two to four times more likely to have heart disease or a stroke.

• American Heart Association Guidelines
When diabetes is detected, a doctor may prescribe changes in eating habits, weight control, exercise programs and medication to keep it in check. It's critical for people with diabetes to have regular check-ups.

Impact of Smoking on Health
Smoking is the most important preventable cause of premature death in the United States. Smokers have a higher risk of developing many chronic disorders, including atherosclerosis — the buildup of fatty substances in the arteries — which can lead to coronary heart disease, heart attack and stroke.

For more information on Life's Simple Seven, visit http://mylifecheck.heart.org/.

Sponsored in part by: