This week will feature seasonable temperatures with no rain or snow. Good travel weather for Thanksgiving.
---
---
TODAY: Sunny, cooler and less windy. High: 63. Wind: WNW 10 mph.
TONIGHT: A few clouds. Cold and calm. Low: 38. Wind: SW 5 mph.
TUESDAY: Mostly sunny and cool. High: 60. Wind: Light.
WEDNESDAY: Sunny. Low: 39. High: 64. Wind: N 5-10 mph.
THANSGIVING DAY: Sunny and mild. Low: 40. High: 67. Wind: SE 10 mph.
FRIDAY: Sunny. Low: 45. High: 68. Wind: SW 20 mph.
SATURDAY: Mostly sunny. Low: 50. High: 68. Wind: SW 20 mph.
SUNDAY: Mostly sunny. Low 51. High 65. Wind: S 15 mph.
100 Percent Chance of Rain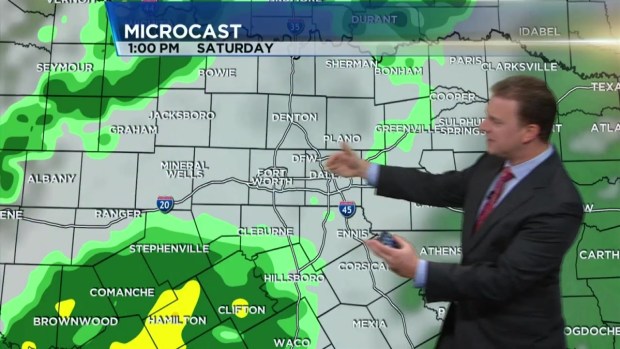 NBC 5 Meteorologist Grant Johnston updates the forecast for Saturday, November 22, 2014. (Published Saturday, Nov 22, 2014)
Take NBC 5's million-watt First Alert Radar with you everywhere you go. The NBC 5 First Alert Radar app is available for download free for iPhone, iPad and Android. Search NBC 5 in the App Store or Google Play and download it and rate it today! CLICK HERE for more information.