Ruptured 6-Inch Gas Line Closes Flower Mound Intersection
Atmos crews called to repair broken main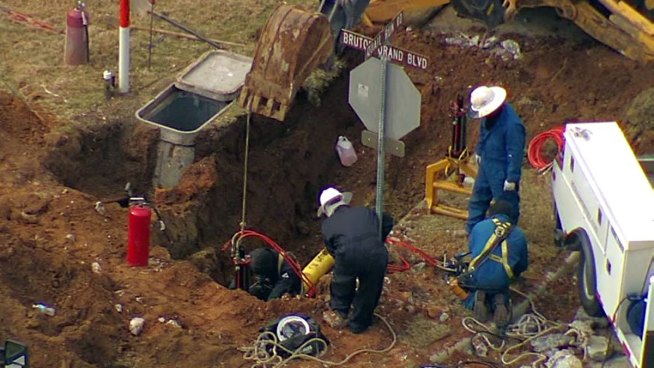 NBC 5 News
Crews from Atmos Energy repair a busted gas main in Flower Mound at Quail Run and Bruton Orand Boulevard.
Atmos repair crews were called to repair a ruptured gas line break in Flower Mound Wednesday morning.
The break was first reported shortly before 9 a.m. Wednesday near the intersection of Bruton Orand Boulevard and Quail Run/Peters Colony Road.
Offiicals said the line was ruptured when a third-party crew drilled into the line.
While the break to the 6-inch line is repaired, the intersection was closed and one home was evacuated as a precaution, according to Flower Mound Fire Chief Eric Metzger.
At about 11:30 a.m., NBC 5 learned the gas had been turned off and the family evacuated will be allowed to return home and the intersection will be reopened to traffic.
Meanwhile, work to repair the line continues.