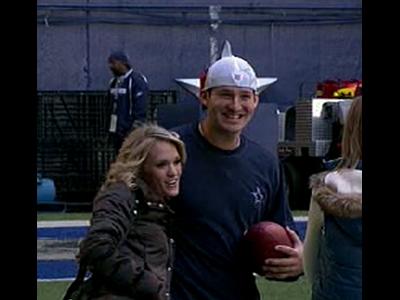 NBCSports
Romo-mania peaks (Nov. 23, 2006) -- Tony Romo already was off to such a storybook start that before his first Thanksgiving start some fans strung his name together and hung it in the Ring of Honor. Then he lived up to it by throwing for five touchdowns in three quarters of a 38-10 victory over Tampa Bay. He ended up dating the halftime star, Carrie Underwood, while impressing another singer in the crowd, Jessica Simpson.
In honor of Sean Avery we bring you this dating update in the life of Cowboys QB Tony Romo.
He onced dated singer Carrie Underwood. Now she's moved on NHL player Mike Fisher.
So, in the world according to Sean Avery, Fisher is dating Tony Romo's sloppy "leftovers".