A cold front moved across North Texas Wednesday bringing rain and a significant drop in temperatures.
Some of the rain was quite heavy with several locations receiving over two inches. The most widespread heavy rain fell west of Fort Worth with up to 5 inches reported around Breckenridge. In the DFW area, Love Field in Dallas had well over two inches of rain.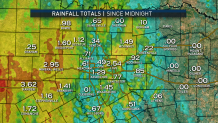 As the cold front continues to move east, the chance of rain will decrease overnight and through the day Thursday. While spotty showers can't be ruled out, additional widespread or heavy rain is unlikely.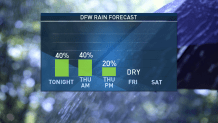 In addition to the rain, the cold front brought in cooler air. Temperatures Thursday will be a mix of 60s and 70s under a mostly cloudy sky. Friday will start cloudy but become partly cloudy for the afternoon allowing more of a warm-up into the 70s and 80s.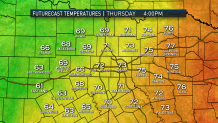 The warming trend will continue this weekend as highs return to the middle to upper 80s.