A strong cold front has brought Arctic air back to North Texas Thursday morning, with temperatures bottoming out in the 20s across Dallas-Fort Worth and wind chills dipping into the teens and single digits.
Only a slight improvement is expected later today with temperatures eventually climbing above freezing this afternoon. The sky will be mostly cloudy and the wind will be strong from the north.
Dry weather is expected to continue here in North Texas, but farther south, there could be some very light sleet.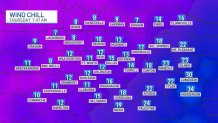 A Winter Weather Advisory is in effect today for Austin and San Antonio. Widespread travel problems are not expected down there, but a few slick spots could develop.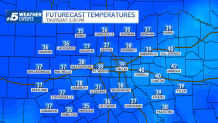 The coldest point with this cold shot will come Friday morning with temperatures in the upper teens to mid-20s.
Some people may have to drip their interior faucets to keep their pipes from freezing. Despite the cold, this will not resemble the cold that we endured last February.
The cold will ease over the weekend with high temperatures in the upper 40s Saturday, and upper 50s Sunday.
Weather Connection