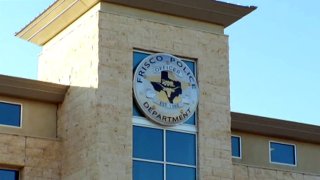 A 33-year-old man driving a motorcycle died due to injuries from a crash in Frisco on Sunday, police say.
At approximately 10:15 p.m., police responded to a crash at the intersection of Farm-to-Market Road 423 and Main Street involving a car and a motorcycle.
Corey Douglas Ream, 33, was found lying in the intersection unconscious. The Little Elm resident was transported to a local hospital, where police said he died due to injuries from the crash.
Passengers in the car were treated at the scene by medics, police said.
According to a preliminary investigation, the car, travelling northbound, failed to yield right of way when turning left on a flashing yellow arrow and collided with the motorcycle being driven by Ream, police said.
No charges have been filed as of Tuesday afternoon, police said.
Anyone with information can contact the Frisco Police Department at 972-292-6010 or remain anonymous by texting 847411 (tip411).