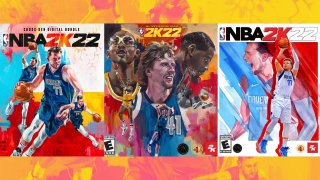 Having a player grace the cover of the NBA 2K video game isn't as illustrious as boasting an MVP or ROY, but for the Mavericks franchise that lack of 2K-cred had been somewhat glaring.
Until now.
Rumors and leaks of recent weeks are indeed true: Mavericks icon Dirk Nowitzki is on the 2K22′s NBA 75th Anniversary edition cover, along with Kareem Abdul-Jabbar and Kevin Durant. And 22-year-old Mavericks star Luka Doncic is on the covers of NBA 2K22′s Standard Edition as well as its Cross-Gen Bundle.
Read more on this story and Nowitzki's reaction from our media partners at The Dallas Morning News.
Copyright The Dallas Morning News