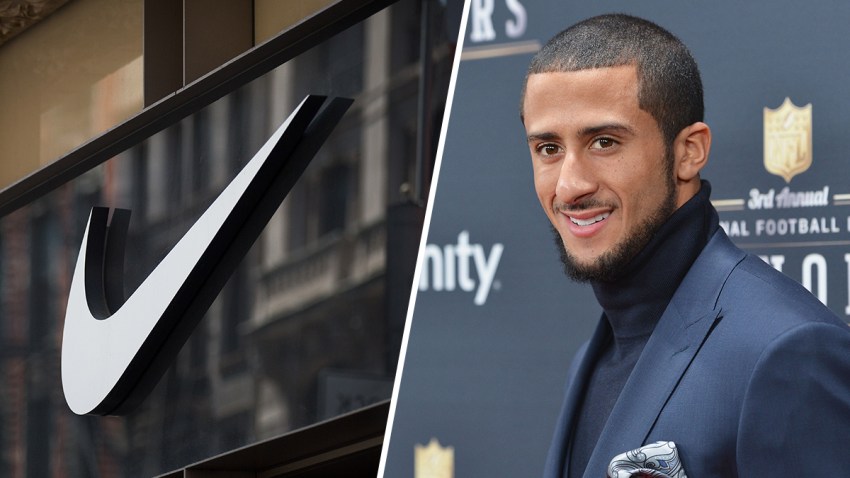 Nike is pulling sneakers featuring an early American flag after former NFL football player Colin Kaepernick told the company it shouldn't sell a shoe that he and others consider offensive, the Wall Street Journal reported, citing people familiar with the matter.
Kaepernick reportedly contacted Nike officials saying he and others felt the "Betsy Ross" flag — featuring 13 stars in a circle — featured on the shoes was linked to a period of slavery. The Betsy Ross flag is one type that was flown during the American Revolution. And the shoes were set to be released in celebration of the July Fourth holiday.
But the flag's design, which was created back in the 1770s to represent the original 13 colonies, has since been associated with white supremacy.
Sports Connection
Connecting you to your favorite North Texas sports teams as well as sports news around the globe.
In 2016, the superintendent of a school district in Michigan apologized after students at a predominantly white high school waved the Betsy Ross flag during a football game. The superintendent said at the time that the banner is a symbol of white supremacy for some.
"Nike has chosen not to release the Air Max 1 Quick Strike Fourth of July as it featured an old version of the American flag," Nike said in a statement to CNBC.
Trying to wipe these shoes from the market, Nike has asked retailers to return the shoes after they were shipped, the WSJ reported. The company did not explain why, the report added. They are currently unavailable on Nike's mobile apps like SNKRS and its website.
But pairs of the shoes have already made their way to some avid sneakerheads and are available on resale sites like StockX, fetching as much as $2,500, according to StockX's website.
Kaepernick became a polarizing figure in sports after he decided not to stand for the national anthem during a 2016 NFL preseason football game, in a protest against racial injustice. His actions have been widely defended as an exercise of his freedom of speech.
Nike tapped Kaepernick for the 30th anniversary of its "Just Do It" advertising to reinforce the campaign's message of overcoming adversity. That generated backlash from some consumers who started setting pairs of Nike sneakers on fire and got #BoycottNike trending on Twitter.
By Tuesday morning, some consumers and political figures were voicing their distaste with Nike's decision again. Some were saying Kaepernick shouldn't have so much power at the retailer to dictate pulling products off shelves.
Senator Ted Cruz (R-Texas) said on Twitter: "It's a good thing Nike only wants to sell sneakers to people who hate the American flag."
And Arizona Governor Doug Ducey said that he will now order the state's commerce authority to withdraw all financial incentive dollars for Nike to locate in the state because of the shoes being pulled. The move was expected to bring about 500 jobs to the area.
Nike just last week pulled another line of shoes from China. The Japanese designer of the sneakers, Undercover, had shown support for Hong Kong protests on social media.
Read the WSJ's report on Nike pulling the sneakers.
—CNBC's Angelica LaVito contributed to this report.

This story first appeared on CNBC.com. More from CNBC:
Copyright CNBCs - CNBC