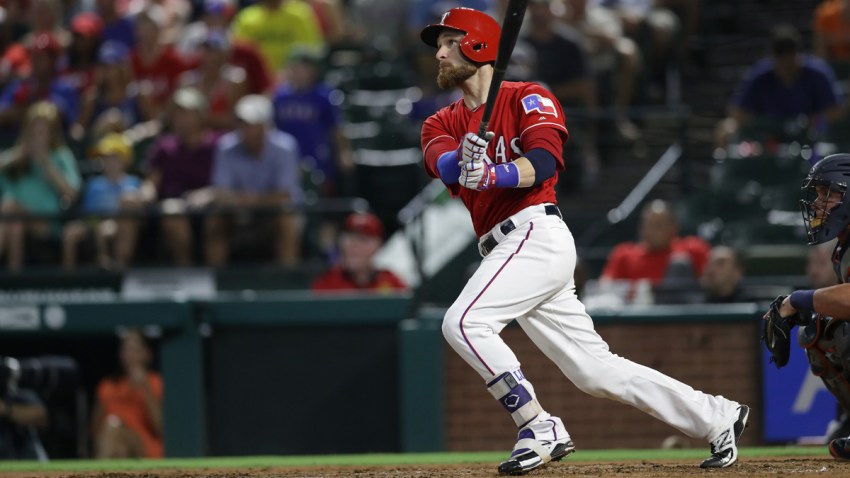 The deal at the deadline that sent catcher Jonathan Lucroy to Texas is looking pretty good right now.
In 11 games while wearing a Rangers uniform, Lucroy is hitting .286 with six homers and 11 RBI. That's called making an impact. Lucroy is an excellent hitter who is currently on a hot streak at the plate unlike anything previously in his career. The Rangers are taking advantage of it.
The Rangers had their eye on the Brewers All-Star catcher for a couple of years, but nothing could ever get done. That was until late July. Texas sent two of their top prospects, Frisco outfielder Lewis Brinson and pitcher Luis Ortiz, to Milwaukee for Lucroy and reliever Jeremy Jeffress. The Brewers will also get a player to be named later in the deal.
Sports Connection
Connecting you to your favorite North Texas sports teams as well as sports news around the globe.
But it's not just with the stick that Lucroy has been an upgrade as far as the catching position is concerned. His ability on defense behind the plate and throwing out runners, plus his pitch selection and handling of the pitching staff has been just as important.
There was all the talk on how the Rangers needed pitching in order to stay on top in the division and make a World Series run. However, the Rangers apparently didn't feel like salvaging the farm system to acquire top young arms and felt confident with what they had. This opened the door for the opportunity to bring in Lucroy, along with veteran Carlos Beltran, and it was an opportunity to good to pass up.
What makes both those deals even bigger? The likelihood that Prince Fielder's career is over after having a second neck surgery. The Rangers would have needed help in the lineup, and luckily made the right moves before Fielder's announcement earlier this month. The lineup now for the Rangers appears to be more dangerous and explosive as ever.
Lucroy originally vetoed a trade that would have sent him to the Cleveland Indians, a decision that came down to playing time and a 2017 team option. The Rangers are now reaping the benefits of that decision.