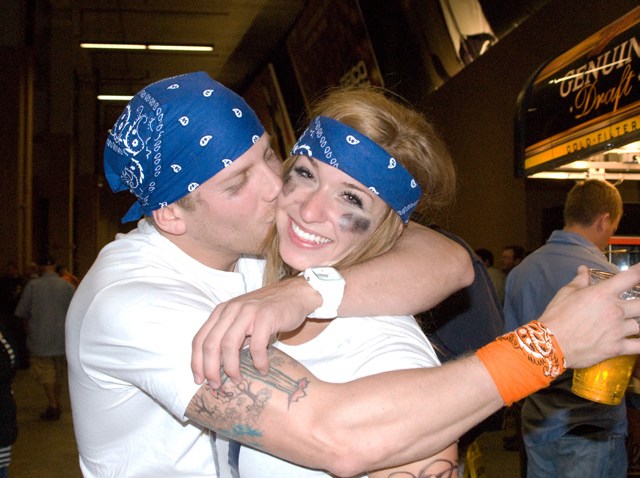 On Tuesday, rumors began spreading on a national scale that Cole Hamels talks have been "ongoing" between the Rangers and the Phillies and that Hamels included the Rangers in a small group of teams he'd accept a trade to, interestingly over the Astros, because he wants to pitch for a contender.
Acquiring Hamels would cost a load in prospects and a load of cash, as Hamels is set to make more than $20 million in each of the next three years, and that doesn't even include his remaining salary in 2015. He'd also give the Rangers a legitimate ace moving forward this season and two legitimate aces for the next few years — something not many teams in baseball have.
To even begin talks about Hamels, the Rangers would have to throw in one of their top prospect bats — likely Double-A outfielder Nomar Mazara — starting pitcher Chi Chi Gonzalez, who had his first flirtation with mortality on Tuesday night, and likely another top prospect with Jorge Alfaro now off the table due to a season-ending injury. Obviously, Joey Gallo is off the table.
Sports Connection
Connecting you to your favorite North Texas sports teams as well as sports news around the globe.
It would also suck up more Rangers payroll in the next few years with Prince Fielder, Shin-Soo Choo and Elvis Andrus all sucking up big money already.
But, it would be more than just a trade for this season. Make no mistake, acquiring Hamels would make the Rangers more of a contender this year, but it'd really pay off in the next few years when you're looking at a rotation of Yu Darvish, Cole Hamels, Derek Holland, Martin Perez and any number of candidates sliding into the No. 5 spot in the rotation. That would be a championship rotation right there, and there is no question about that.
The Rangers are more in need this year of a right-handed bat and a couple of really good relief pitchers to even make themselves a playoff team, for which an ace like Hamels can make the difference in October.
But if the Rangers can land Hamels and miss the postseason this year, that'd be OK because they'd be back at full force hunting for pennants starting in 2016. It'd be a tough call, but opportunities to get a 200-inning, 200-strikeout machine like Hamels don't come along every day, and the Rangers might be best served to make the move and reap the benefits in the next few seasons.
Copyright FREEL - NBC Local Media