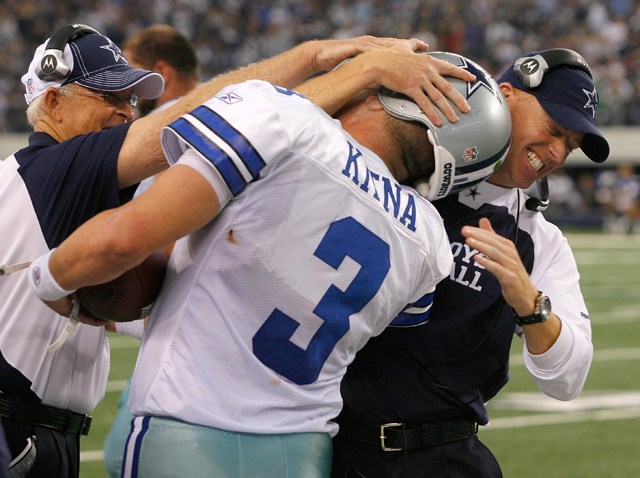 The Dallas Cowboys have scheduled a press conference for 1:30 PM Thursday afternoon, where, unless every indication out there is wrong, the team will name Jason Garrett as the new head coach of "America's Team."

The move will likely represent the beginning of an offseason rife with change for the Cowboys, a wild departure from the team's stance a year ago, when made a point of having a quiet offseason. The installment of David Buehler as place kicker and the departure of receiver Patrick Crayton, in fact, represent the biggest changes to the team's personnel between 2009 and 2010--and both of those moves are questionable in retrospect.

This offseason, it seems that the team will be anything but idle.

Assuming Garrett is announced as the new head coach today--which, of course, is the preeminent concern for Jerry Jones and co., as far as personnel goes--the process of coach- and player-evaluation can begin. It's looking increasingly likely that Todd Bowles will be named as the team's defensive coordinator, and that alone could mean a shaking up of things.

Secondary coach Dave Campo and offensive line coach Hudson Houck are two names that have come up in the list of folks who may not be long for Dallas. There's also seems a good chance that receivers coach Ray Sherman, who interviewed for the head coaching position, is looking for a promotion. So, if Garrett remains the offensive coordinator, will Sherman stay on in his old position or look for a promotion elsewhere?

The process of player evaluation is another matter. Dallas has 11 free agents on the current roster, and even more that they could probably stand to part with. Yesterday, Drew Pearson said that in his eyes, everyone in the Dallas secondary, aside from Terence Newman, is expendable.

Last season, Dallas did very little in the offseason, believing that the core group in place, most of which remains in place, gave them a chance to win. Obviously, they weren't exactly right, and this miscalculation will likely lead to a much more active offseason and, ultimately, a new-look Cowboys team in 2011.
Stay on top of the latest Dallas Cowboys news with NBCDFW.com. Follow NBC DFW Sports on Facebook or have breaking Cowboys news sent directly to your phone with Blue Star SMS alerts. Text "bluestar" to 622339 (NBCDFW) to subscribe to this free service. Read more about it here.

Copyright FREEL - NBC Local Media