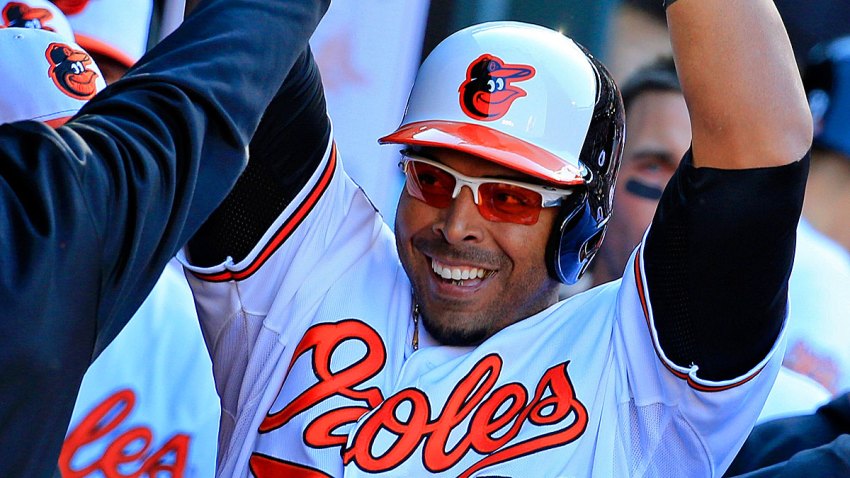 When you head out to Globe Life Park in Arlington this week to watch the Texas Rangers square off against the Baltimore Orioles, the O's will have yet another former Ranger returning to his old stomping grounds — joining the likes of Chris Davis, Tommy Hunter, Darren O'Day and even former skipper Buck Showalter.
Now, there's Nelson Cruz. You know, the guy who has a two-foot hot dog named in his honor, was a fan favorite, was the goat in the 2011 Game 6 collapse against the St. Louis Cardinals and in the series prior to that but the team on his back to win its second straight AL pennant.
Cruz gave a lot to the Rangers, but there's a flip-side. He also took a lot away last season when he was popped with a 50-game suspension, forcing him to miss the final 50 games of the regular season before returning to the lineup for a struggling offense in a AL Wild Card Game play-in game against Tampa Bay, in which he went 0-for-4 and made the game's final out to end Texas' season and his career as a Ranger.
Sports Connection
Connecting you to your favorite North Texas sports teams as well as sports news around the globe.
As a regular for the Rangers, from 2009-2013, Cruz was a two-time all-star (in 2009 and 2013), hit .272 and added 135 homers with 407 RBIs with an .842 OPS. He was the Rangers' best power hitter during that time, at least from a consistency standpoint, and was always big in the clutch — as evidenced by the 2011 ALCS when he hit six homers, drove in 13 runs and batted .364 with a 1.713 OPS to earn MVP honors.
So how should fans respond when Cruz's name is announced on Tuesday, or Wednesday, or whenever he gets back in the lineup after being plunked on the wrist on Sunday? The answer should be simple.
Yes, he screwed the team over by breaking the rules and then taking a suspension instead of appealing when the club needed his bat desperately. But he also was a great teammate, was loved by the fans and most importantly, has spoken nothing but positive about the Rangers and their fans since he turned down a 1-year, $14.1 million qualifying offer in November before watching his market tumble and settling for a 1-year, $8 million deal with Baltimore over a deal from Texas that would've had him used as a full-time DH.
"I cannot be more thankful to the fans," Cruz told The Dallas Morning News during the Orioles' series against Houston last weekend. "The last time I played there, I had chills with the way they welcomed me. I still get chills thinking about it.
"All year long was a difficult year for me last year, but they were behind me. I'll always remember that."
This isn't Josh Hamilton, or even Ian Kinsler, who has yet to return after making disparaging comments of his own after being traded in November for Prince Fielder.
Cruz was welcomed back by his teammates for that one disappointing game last season, and this week he should receive a similar welcome from the fans he appreciated so much. Sure, hope he goes 0-for-the series, but let the guy know you appreciate what he did in what has been known as the Rangers' glory years.
Copyright FREEL - NBC Local Media