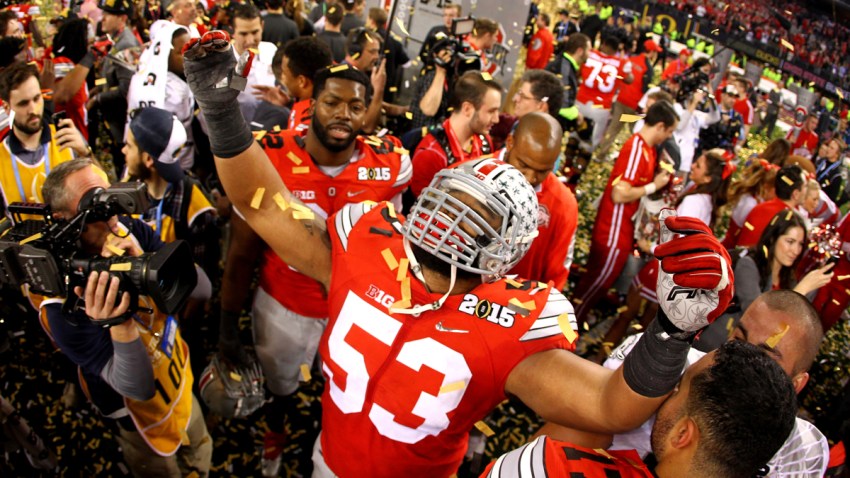 Michael Bennett, DL, Ohio State
Ht. 6020, Wt. 293, Arm: 33 5/8", Hand: 10 1/4", Bench: -
40 yd: -, 10 yd.: -, 3 Cone: -, Vertical: -, Broad: -
Games Watched: Wisconsin, Alabama, Oregon
If you think other games better reflect this player's ability or you want to request a profile on a specific player, email me or hit me up on Twitter.
After the 2013 season, Ohio State defensive tackle Michael Bennett generated a lot of first-round buzz before announcing he would return to school. His stock slipped in the eyes of many with a slow start to the 2014 season, but he finished strong with 11 tackles for loss and 6 sacks in the last 7 games en route to a national championship.
Sports Connection
Connecting you to your favorite North Texas sports teams as well as sports news around the globe.
At 288 pounds, Bennett is an undersized defensive tackle by NFL standards, but standards might be changing after a pair of 288-pound defensive tackles — Pittsburgh's Aaron Donald and Florida's Dom Easley — were picked in the first round of last year's draft.
Strengths
Put simply, speed is where Bennett wins. He won't put linemen on skates, but there were times when he was past some of the best offensive lines in college football before they finished getting out of their stances. There might not be another defensive tackle in this draft that can match his burst.
Bennett flashes great technique and he's nearly unblockable when he does. He gives offensive linemen fits with his violent hand use and impressive rip, swim and spin moves.
At first glance, Bennett looks like the classic 3-technique in a Rod Marinelli defense. Marinelli likes a quick, penetrating one-gapper in that role, which is when Bennett is at his best.
Weaknesses
The biggest issue with Bennett is that his technique wasn't consistent. At times, he would let a single blocker latch onto him or get into his body. When that happened, he was virtually erased from plays.
Smaller defensive linemen must be able to convert speed to power against bigger offensive linemen. Bennett doesn't do this well enough consistently.
Bennett struggled early in 2014 when Ohio State asked him to play the nose. He played there and at 5-technique at times later in the season too, and he was largely ineffective. He only plays one role well, which might limit his ability to affect games.
Verdict: First Rounder
Bennett doesn't offer the versatility that some of the other defensive linemen in this draft do, but he does one thing really well. Players who do one very important thing well, as Bennett does, are highly valuable players.
In most cases, a player like Bennett is a second-round value. In Rod Marinelli's scheme, though, he could be a 3-technique in the mold of Geno Atkins, which is worth the 27th overall pick.