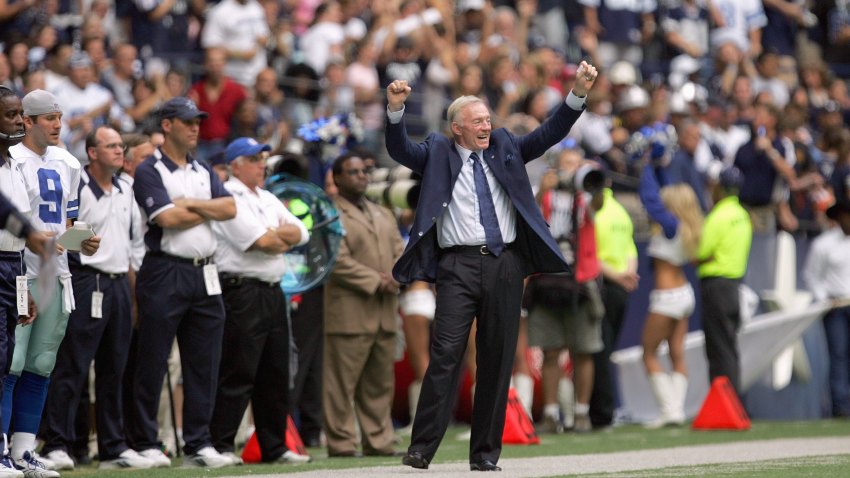 How many times have you heared a frustrated Cowboys fan say, "We'll never win until Jerry Jones gets a real football guy"?
I hear it all the time on my 105.3 The Fan radio show.
Sorry to re-break the news, but it's not going to happen. Jerry Jones will remain as the Cowboys owner and GM, period.
Blue Star
The center of the Dallas Cowboys universe.
Jerry has said in the past his ego will not allow him to let someone else run his franchise.
This morning my radio compadre Jagger asked Jerry during his bi-weekly radio show on The Fan about hiring a coach and GM, "No," Jones responded emphatically. "And we don't need to argue about it. I don't have anything that I don't manage myself. I just don't."
Nuff said. You better hope Jerry Jones finds his Joe Torre like George Steinbrenner did for his Yankees in the winter of 1995.
Torre did a great job of managing the Yankees and The Boss who always meddling and trying to intimidate him. His book, The Yankee Years, is a great chronicle of how he won despite always dealing with the New York media and his owners constant circus atmosphere.
Torre won four World Series titles for the Yankees.
It's one reason why I keep pumping up Mike Holmgren to replace Wade Phillips in 2010. Jerry has a good relationship with him and he wants back in the coaching game. He's taken two teams (Green Bay and Seattle) to the Super Bowl and can deal with Jerry's ways.
After working for Eddie DeBartolo in San Francisco, the crazed fans of Green Bay, and billionaire Paul Allen, I think Holmgren can deal with all the expectations that come with being the Cowboys head coach.
Cowboys fans, like it or not, Jerry Jones will keep making the football decisions at Valley Ranch, but having Holmgren in the building will make the football decisions a lot better.